Student Handbook - About Harper College
A Message from the President: Kenneth L. Ender, Ph.D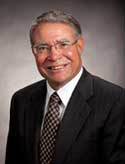 Welcome to Harper College. We're pleased that you've chosen to start here.
When William Rainey Harper helped start the community college movement a century ago, he couldn't have dreamed of the complex challenges that higher education faces today. But like our namesake, we believe in dreaming boldly, challenging the status quo and advancing innovative solutions to help students achieve their goals in a fast-changing world.
We are engaged in a continuous two-way conversation with local businesses to make sure our programs are meeting their changing workforce needs, and we're collaborating more closely with our local high schools to ensure our curriculums align and that students come to Harper well-prepared. Because of these partnerships, Harper College is well-positioned to train our students for new economy jobs, prepare them for transfer to four-year universities and deliver the credentials needed for promotions. Through the hard work of our faculty and staff and the support of so many others, including our extraordinary alumni, we're preparing students for great careers and great futures.
As a college accessible to all, we know we can no longer afford to measure ourselves simply by how many students choose to enroll at Harper College. It's about how many finish here, and we are working diligently every day toward that goal of student success.