Distinguished Alumni Scholarship Fund
Distinguished Alumni Scholarship Fund
Our Proud Past. Their Strong Future.
Since 1967, Harper College has been making a difference in the community and transforming lives. In 2017 Harper Distinguished Alumni launched the Distinguished Alumni Scholarship Fund to support future students.
Many of our Distinguished Alumni benefitted from scholarships while they attended Harper. Because others believed in them, they strived for excellence. Now, this group is joining forces to help others have the same opportunity for success.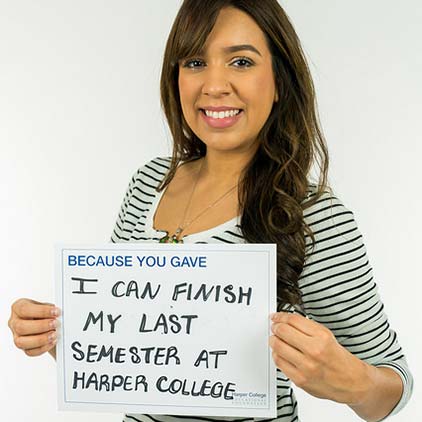 The first Distinguished Alumni Scholarship was awarded and announced at the Distinguished Alumni Reception on October 30, 2018. The inaugural scholarship recipient is Susana Reza, a nursing student and single mother who needed help balancing work, attending classes, studying, and raising her 4-year-old son. She is dedicated to fulfilling her dream of becoming a pediatric nurse. Through the Distinguished Alumni Scholarship, donors have invested in Susi and given her the opportunity to continue to pursue her dreams. The award selection was made by a dedicated committee of Distinguished Alumni. For more information on the Distinguished Alumni Scholarship, please contact Shannon Hynes at 847-925-6701 or shynes@harpercollege.edu.
Investing in a Strong Future
Scholarships show students that their dreams and goals matter and that others want to invest in their future. After graduation, the students you help support will become our society's next generation of entrepreneurs, scholars, change makers and global citizens.
Your contribution to the Distinguished Alumni Scholarship Fund serves a dual purpose — by bettering an individual life, you better the world.
Learn more about our Distinguished Alumni and about investing in students at Harper College.
"Being a Distinguished Alumna is an honor that I cherish, and I know that I'm not alone."