Defining Sexual Misconduct: Power, Media, and #MeToo
Defining Sexual Misconduct: Power, Media, and #MeToo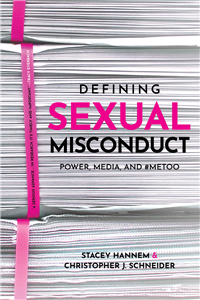 Please join us for a special lecture featuring Harper College Distinguished Alumnus Dr. Christopher Schneider and co-author Dr. Stacey Hannem to discuss their new book Defining Sexual Misconduct: Power, Media, and #MeToo.
Wednesday, April 13, 2022
2 p.m. Lecture with Q&A
3 p.m. Reception, Book Signing, Meet and Greet
Performing Arts Center, Harper College
1200 West Algonquin Road, Palatine, IL 60067
This is a FREE event but registration is required. Please register by Monday, April 11. The first 10 alumni to register will receive a complimentary copy of Defining Sexual Misconduct: Power, Media, and #MeToo. Questions? Email alumni@harpercollege.edu.
Lecture Overview
In 2015, the New York Times ran just a single headline with the term "sexual misconduct." Three years later, it ran scores of such headlines, averaging more than one per week, and expanded coverage across other media organizations followed. This shift in coverage is reflective of significant changes in public discourse about sexual harm helping to hold some perpetrators accountable for their behaviour and paved the path for #MeToo and related movements against sexual abuse and harm to receive national and global attention.
Dr. Stacey Hannem and Harper College Alumnus Dr. Christopher J. Schneider will be discussing their new co-authored book, Defining Sexual Misconduct which traces contemporary shifts in power in relation to the increased recognition and censure of sexual misconduct and the ways in which the shifting social landscape is communicated in the coverage of sexual misconduct in media.
Dr. Hannem and Dr. Schneider will discuss some of the contemporary dynamics of public accusations and their relationship to more formal criminal justice processes, as well as the implications for the stigmatization of alleged abusers and public response to alleged victims. Since behaviours categorized as sexual misconduct may not all be defined as crimes, or punishable through legal means, social censure and cancel culture often stand as proxy forms of punishment, and the authors reflect on what the pursuit of justice might look like in this extra-legal context.
Bios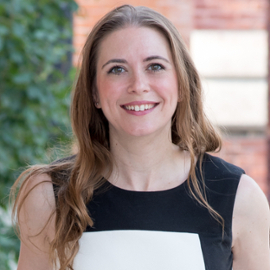 Stacey Hannem (PhD Carleton University) is professor of criminology at Wilfrid Laurier University. Hannem's research and publications examine how structural and institutional forces, including law and criminal processing institutions, are implicated in shaping and reinforcing the stigmatization and marginalization of targeted groups. Notable research has focused on the legal regulation of sex work and the effects of crime and the justice system for families of incarcerated persons. Hannem is a co-editor of Stigma Revisited: Implications of the Mark (University of Ottawa Press, 2012) and Security and Risk Technologies in Criminal Justice: A Critical Perspective (Canadian Scholars, 2019). Her research has appeared in the journals Deviant Behavior, Symbolic Interaction, Feminist Criminology, Criminologie, the International Journal of Offender Therapy and Comparative Criminology, and Sexuality and Culture, among others. The Society for the Study of Symbolic Interaction presented Dr. Hannem with the 2019 Kathy Charmaz Early in Career Award for her significant contributions to the society and the field of symbolic interaction.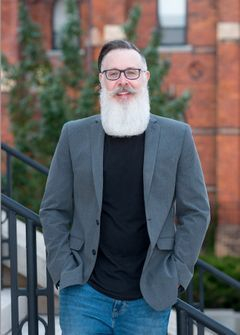 Christopher J. Schneider (PhD Arizona State University) is professor of sociology at Brandon University. Schneider's research focuses on how developments in media and technology contribute to changes in social interaction and social control. He has written or collaborated on five books, including Policing and Social Media: Social Control in an Era of New Media (Lexington Books, 2016), and has published dozens of scholarly journal articles, book chapters, and essays. Schneider has received recognition for his research, teaching, and service contributions. He is the recipient of a 2021 Harper College Distinguished Alumni Award, given in recognition of outstanding professional achievement and community leadership. In 2020, he received an Emerald Literati Outstanding Author Contribution Award for his 2017 Couch-Stone Symposium keynote address, which was published in 2019 in Studies in Symbolic Interaction. A frequent contributor to media, Schneider's work has appeared in hundreds of news segments and reports, including The New York Times, The Washington Post, USA Today, NBC News, and Chicago's WGN-TV. Schneider was endowed chair of criminology and criminal justice at St. Thomas University in the spring of 2019 and public visiting scholar at Wilfrid Laurier University in the fall 2016.
Book Reviews
"Defining Sexual Misconduct is essential to understanding the origins of a movement and the many barriers that survivors of sexual violence face when their stories are used as political and media fodder. This book is required reading for anyone who wants to understand how far we have come in recognizing the prevalence of sexual misconduct, and how much work is still left to do in the fight for justice." —Alyssa Milano, actress, author, producer, and activist
"This book really helps to illuminate and clarify the potential harms that can be done in the absence of sexual consent. By walking us through well-known examples from news reports, the authors make us think about the challenges survivors face when disclosing, how hard it is to hold abusers accountable, and the complexities and ambiguities of sexual consent and sexual agency — and the role played by the media, both social and traditional." —Dan Savage, author of It Gets Better and American Savage
This event will be held in-person with virtual attend options available. Harper College is following State of Illinois COVID safety guidelines on campus. Event guests will receive a communication in advance of the event with any safety protocols and guidelines for attendance. Individuals with disabilities who would like to request an accommodation or who have questions about physical access may email ads@harpercollege.edu or call 847.925.6266 at least two weeks in advance of the event date.