Fun and games all in a day's work for Harper alumnus
Fun and games all in a day's work for Harper alumnus

Communications

June 20, 2019

June 20, 2019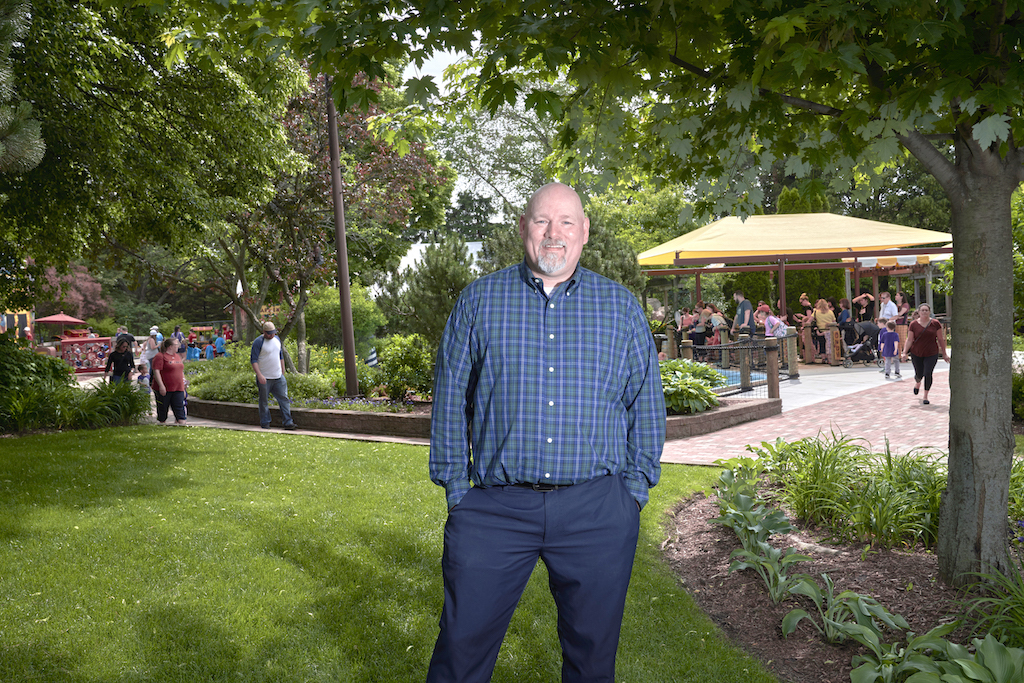 A.J. Collier, AA '91 and AS '92, feels lucky because fun and games are not only a daily occurrence but a mandatory part of the job.
"How many people get to come to work and play? I have an amusement park in my backyard," said A.J.
In his role as superintendent of recreation at Elk Grove Park District, he oversees Pirates' Cove Children's Theme Park, Jumps and Giggles, Garden Terrace, the fitness center, the dance studio and the employees and customer service supporting those operations. Under his leadership, he helped guide and turn around the revenue for Pirates' Cove within two years in the role.
But his path to becoming a top leader within the field of parks and rec began when fate stepped in – not once but twice. First, a car accident only weeks before heading off to play football at a four-year university left him with long-term rehabilitation needs. His recovery was the top priority, so he changed his plans and enrolled part-time at Harper College.
"Looking back, I wouldn't be where I am had that accident not happened," said A.J. "Fate drove things from there."
Once at Harper, he quickly immersed himself in the Athletics program with hopes of becoming a physical education teacher. He was working in Building M when Doug Spiwak, then athletic trainer and now director of athletics, offered him a student athletic trainer position and he jumped at the opportunity.
It was also while working in Building M that a second pivotal occurrence changed his career direction.
A man playing racquetball with his sons in the Building M gymnasium went into cardiac arrest. A.J., who is CPR certified, jumped into action. He called 911 and, along with a Harper police officer, started two-man CPR. When emergency medical services arrived, they credited A.J. and the officer's actions with saving the man's life.
"We saved him and that day changed my life," said A.J. "I switched to a goal of cardiac and pulmonary rehabilitation from that point on."
A.J. transferred to Northern Illinois University, where he went on to receive his B.S. in Exercise Physiology. After years in cardiac and pulmonary rehabilitation, he made a career change when offered a role to open a fitness center in Schaumburg.
"I liked the idea of helping people before they were sick and having the opportunity to keep them healthy," said A.J. "And once I started working there, work no longer felt like work."
He went on to work his way up and shifted to roles of increasing responsibility with area park districts including Mount Prospect and Bartlett before landing the coveted role of superintendent of recreation at Elk Grove Village Park District in 2013.
"Elk Grove is an iconic park district that has so many unique aspects to it," said A.J. "I like the ability to use my creativity in my job through our programming. I wanted Pirates' Cove to feel like you are walking onto the set of a Disney pirate movie."
A.J. has been recognized by the Illinois Parks and Recreation Association as Professional of the Year, the top honor in his field. He was also previously awarded the Fitness Facility Manager of the Year by the same organization.
When reflecting on his career trajectory, A.J. feels lucky about where he's landed and doesn't take any of it for granted.
"I get to come to work and have fun," said A.J. "I can walk into our facilities and hear kids laughing and know that I am making a difference."