Tres Fridas Project: Reimagining Art Through the Disability Lens
Tres Fridas Project: Reimagining Art Through the Disability Lens

Alumni

November 12, 2019

November 12, 2019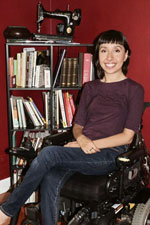 Harper alumna Reveca Torres and Chicago artists Miriam Pare and Tara Ahern have created the exhibit, "Tres Fridas Project: Reimagining Art Through the Disability Lens."
The exhibit recreates iconic images of art substituting the subjects with people with disabilities and ran at Harper College earlier in November.
Torres, who was named to Harper's 2016 class of Distinguished Alumni, was paralyzed in a car accident at age 13. She became the first person with a spinal cord injury to complete Harper's Fashion Design degree. Torres is helping to make a documentary film that captures the artists recreating all 16 images, meeting other artists with disabilities and advocates, and interviewing their subjects about living with a disability.
Harper Professor Pascuala Herrera said the exhibit supports Harper's efforts to promote social justice for individuals with disabilities.
"It will help people to realize that individuals with disabilities can be successful, creative and accomplished," said Herrera, an accessibility specialist in Access and Disability Services. "It may make viewers take a moment and comprehend that disability doesn't have to be something to fear or hide."
Torres, Pare and Ahern are each artists with disabilities who deeply relate to Mexican painter Frida Kahlo. A few years ago, Torres and Pare recreated Kahlo's famous painting, "Las Dos Fridas," by sitting in their wheelchairs in order to share a message about the human experience of disability. Ahern photographed them.
The success of that piece led the trio to recreate other notable images such as Leonardo da Vinci "Mona Lisa" and Pablo Picasso's "Old Guitarist" as part of the "Tres Fridas" project.
The exhibit debuted at the Bridgeport Art Center earlier this fall but, at the reception to launch the exhibit on campus, Torres said she was excited at the prospect of bringing the exhibit to Harper College.
"Having our exhibit in an educational setting such as Harper College, where young people, and people who are educating the next generation of our allies can help continue the support of the work and elevate the lives of people with disabilities," said Torres.
The exhibit will continue its tour with possible future exhibitions in the area.
"This is exhibit has been five years in the making and has been getting great attention which we are happy about," said Torrres. "I feel like this is a great beginning."