EZProxy Update!

Harper College Library

February 20, 2019

February 20, 2019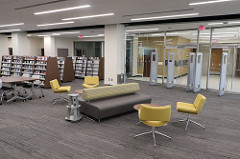 Do you want your students to have access to Library resources remotely? Whether they are using their computer, tablet, or phone they can still access the Library's resources. If so, you need to use EZproxy.
EZproxy allows students, faculty, and staff to use their login credentials to access all the Library has to offer when they are not physically on the Harper campus. Periodically, EZproxy needs to be updated in order to stay compliant with current standards.
Do you use EZproxy when embedding videos in your Blackboard courses? If so, you will want to update the old EZproxy URL from http://prox2.harpercollege.edu:2048/login?url= to the new URL http://prox.harpercollege.edu/login?url= in order to assure that your video links resolve correctly. It is important that you update your links to make sure that our students receive uninterrupted service.