Author to watch out for!

Harper College Library

April 9, 2019

April 9, 2019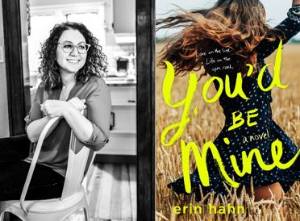 In the Fall of 2000, I entered Northern Michigan University in Marquette, MI as a nervous freshman, as all freshmen in college are! But, little did I know that down the hall from me in my residence hall lived future published author, Erin Hahn.
Erin and I became fast friends. She was the typical friendly, easy going person you would want to meet in college. I think the reason Erin and I instantly bonded was because we are both from the northwest suburbs of Illinois. Erin grew up in Johnsburg and attended McHenry West High School. She graduated with a B.A. in Sociology from Northern Michigan University.
Writing has always been Erin's passion, so being able to publish her first novel You'd Be Mine this April is a big success for Erin. She survived a lot of rejection before she heard "yes" from a publisher! She never gave up because her dream of becoming a published author and now, as of April 2, 2019, she can officially say that you can buy her work at places like your local Barnes & Noble.
You'd Be Mine tells the story of Annie Mathers and Clay Coolidge, two country music singers forced to tour together over one summer. Annie is a sweet girl and Clay is the bad boy that everyone warns Annie against. During their summer tour they learn about each other and unexpected sparks star to fly between them. Erin weaves to together a good ole' fashioned country love story, through narrative and amazing song lyrics (that Erin has also written), that will make everyone swoon and want more!
I recently traveled to Ann Arbor, MI, where Erin lives with her husband and two kids, to attend her book launch at a local bookstore, Nicola's Books. She was joined in conversation by New York Times Best Selling Author Karen McManus, author of One of Us is Lying. Karen and Erin met 4 years ago while they were trying to get their respective books published. Since then, they have been become great friends and critique partners. Both Erin and Karen, along with other authors give their support to one another daily via social media.
I was able to sit down with Erin and ask her some questions about You'd Be Mine, her publishing journey, and what's next:
Mitch: What inspired you to write "You'd be Mine"?
Erin: Before starting You'd Be Mine, I watched a documentary about the Carter family and the early beginnings of country music. I learned exactly how influential that family[the Carter's] were as far as what exists on country radio today. They were iconic, to say the least. I had no idea that June[Carter] came from that kind of history until, at the end of the documentary, Johnny Cash[June Carter's husband] came on and spoke of how awestruck he was by her and her name. It really changed my perspective on the couple and influenced the way I wrote Clay and Annie. I've always loved that whole Cinderella trope so often found in romance, but the feminist teacher and mom in me hated that the guy always got to be charming and famous. Johnny's words made me think. What if my female protagonist was the legendary one? What would happen if I leveled the fame playing field?
Discuss your writing process for aspiring writers? Do you outline? Do you write as things come to you?
I don't outline. I'm a very messy drafter, honestly, and I definitely write as I go. I do create extensive and detailed playlists for each of my characters ahead of writing, so before I even open a word doc, I've got a clear picture and voice in my head. The playlists are super handy to return to as I draft and revise. It's the best way I've found to keep my characters' voices distinct and consistent.
What has the publishing process been like for you? Starting with getting an agent to finally scoring that book deal.
Let me start by saying that before writing You'd Be Mine, I wrote five previous novels and received hundreds of rejections. Hundreds. So my skin is nice and thick. I wrote YBM in 2017 and queried it March-May. I received my agent offer the end of May and considered a few others before sticking with my original [agent] and signing with Kate McKean of Howard Morhaim Literary Agency. We revised the draft together and then I went on submission from June to July of 2017. Wednesday Books offered to publish You'd Be Mine on August 1st,2017. Best day ever!
What advice would you give those who want to write the next "great American novel"? And what advice do you wish would have been given to you when you started writing books?
Don't write the next great American novel! J Write what you love. There's no benefit to chasing a trend. It will have already passed you by before you've even written your first agent query.
What is next for you?
I'm in the middle of revisions of my second standalone YA contemporary romance out in 2020, More Than Maybe. It's a love story inspired by my obsession with alternative music and the 90s cult classic[film], Empire Records. [More than Maybeis about]Son of a former British punk rocker, Luke, falls for aspiring music blogger, Vada. When the song he writes about her accidentally goes viral, the two have to navigate their growing feelings on a national stage, all while attempting to save the dive bar they both work at from going extinct.
Fun Question: If there were a movie (or TV series) to be made from "You'd Be Mine", who would you like to see play Annie and Clay?
I honestly have no idea! I think I'd prefer someone unknown and new, to be honest. And obviously I'd like them to be teens since Clay and Annie are 18. Teens who sing well. That's all I need!
******************
I am so thrilled for Erin and wish her every success in what is going to be a very successful writing career. I was fortunate enough to have read You'd Be Mine last fall and fell in love with it instantly. You can read You'd Be Mine when it will hit Harper College Library's shelves soon. You can also follow Erin on twitter @erinhahn_author.