Small Works
Annual Small Works National Juried Art Exhibition
The College's annual Small Works national juried exhibition highlights work selected from entries by artists from across the country. The show features a wide array of media, ranging from photography and prints to painting and sculpture.
2021 Online Entry opens May 1.
ELIGIBILITY AND MEDIA
All artists age 18 and over living in the United States are eligible.
In its largest dimension, artwork must be 24 inches or less, including frame if applicable.
All media are eligible, excluding jewelry and film/video.
Weight limitation: 45 pounds
Work that requires special installation or instructions will NOT be accepted.
Only work created within the last three years is eligible.
ENTRY AND NEW ONLINE PROCESS
All Small Works entries will be judged from digital files.
Before entering, prepare the following:
1. Required Artwork Information
for each entry:
Title
Medium
Sale Price
Insurance Value
Actual and Framed Art Sizes in inches (height" x width" x depth")
2. Required Digital Image File for each entry, up to three (3) per artist
File Format: .jpg only, maximum 2 MB file size
File Name: Artist's last name_First initial_number of image
(Note: Do not place your name into the digital image.)
Example: Smith_M_1.jpg
ENTRY FEE
One $35 nonrefundable fee entitles each artist to submit up to three entries.
NOTIFICATION
Accepted entries will be posted on this web page by July 10, 2020. Individual notification will NOT be sent. Please check this webpage for the jury results.
ACCEPTED WORK
Presentation: All works must be delivered to Harper ready for hanging/ installation/display. For framed work, use Plexiglas only. Original work not accurately represented by the digital file may be declined at the discretion of the Juror. All work will be insured during the exhibition for the artist's stated valuation.
Shipping: Work must be shipped or hand-delivered in sturdy, reusable cardboard containers to arrive at Harper College. DO NOT use loose styrofoam "peanut" packing. Works should not require special handling or instructions.
RETURN OF ACCEPTED WORK
Works will be returned in original containers via UPS as soon as possible after the close of the exhibition. The Exhibition will pay for return shipping, insuring containers per stated valuations.
CATALOG, SALES AND REPRODUCTION
In conjunction with the Small Works exhibition, a color catalog will be produced. Each participating artist will receive catalogs by mail after the exhibition closes. Harper College will not retain commission on sales. Consent to reproduction for publicity purposes for this or future Harper national exhibitions is considered granted.
SUBMISSION OF ENTRIES IS NOW CLOSED
Our thanks to Carrie Johnson, Executive Director/Curator, Rockford Art Museum (RAM), Rockford, IL. Ms. Johnson was scheduled to jury the 2020 exhibition.
Kendra Paitz
Director and Chief Curator, University Galleries at Illinois State University
Kendra Paitz is Director and Chief Curator at University Galleries at Illinois State University, where she has been since 2008. She has organized solo exhibitions featuring Terry Adkins, William Cordova, Basim Magdy, Bethany Collins, Carrie Schneider, Dianna Frid, Cecil McDonald Jr. (co-curated), Edra Soto, Juan Angel Chávez, Ebony G. Patterson, Deb Sokolow, Laura Letinsky, Melanie Schiff, Rana Young, Jason Lazarus (co-curated with Barry Blinderman), Stanya Kahn, Lori Waxman, Kendell Carter, Stephanie Brooks, Oliver Herring (co-curated), Irena Knezevic (Irena Haiduk), Bob Jones, Schuyler Maehl, Adam Farcus, and Shinique Smith, among others. Her group exhibitions include Strange Oscillations and Vibrations of Sympathy, The House of the Seven Gables, Orison for the Forest, and but you gave me flowers. She has supervised the publication of ten exhibition catalogues at University Galleries. Paitz's essays and interviews have been published by University Galleries of Illinois State University, Normal, Illinois; Tisch School of the Arts, New York University; Hyde Park Art Center, Chicago; Daylight Books; Des Moines Art Center, Des Moines, Iowa; and Golden Parachutes, Berlin. She has been the Principle Investigator for grants awarded by The Andy Warhol Foundation for the Visual Arts, the Elizabeth Firestone Graham Foundation, and Target, among others. Paitz is also the founding Director at Violet Poe Projects, an independent artist-project space in her home from 2010-2015.
Congratulations to these artists selected to exhibit in the 42nd Annual Small Works National Juried Art Exhibition in 2019:
Mark Adkins
Herman Aguirre
Mark Danielson
John Ferry
Jessica Gondek
Sharon Harper
Richard Hutter
Kalindi Kunis
Nicholas Luchenbill
Joanne Luongo
Camila Marianela
Scott Mossman
Lisa Nelson Raabe
Katie Prock
Kevin Schroeder
Margi Weir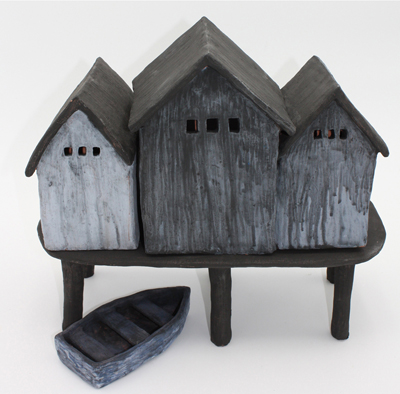 2019 Small Works Purchase Award:
Sharon Harper, Springfield, MO
there used to be three, 2018 ceramic, 10" x 12" x 6"