Small Works
43rd Annual

Harper College National Juried Exhibition
View the 2021 Small Works Exhibition here
The College's annual Small Works national juried exhibition highlights work selected from entries by artists from across the country. The show features a wide array of media, ranging from photography and prints to painting and sculpture.
Call for Artists and 2021 Exhibition Calendar
6/

2

8

:

 Entry deadline

7/

3

0

:  

Jury notification posted on website
8

/2

4

:  

Deadline for artwork to be received

9

/

20

-

10

/

28

:

 

Exhibition at Harper College
ELIGIBILITY AND MEDIA
All artists age 18 and over living in the United States are eligible.
In its largest dimension, artwork must be 24 inches or less, including frame if applicable.
All media are eligible, excluding jewelry and film/video.
Weight limitation: 45 pounds
Work that requires special installation or instructions will NOT be accepted.
Only work created within the last three years is eligible.
ENTRY AND ONLINE PROCESS
All Small Works entries will be judged from digital files. Before entering, prepare the following:
1. Required Artwork Information for each entry:
Title
Medium

Sale Price or NFS

Insurance Value
Actual and Framed Art Sizes in inches (height" x width" x depth")
2. Required Digital Image File
One (1) image file per entry, up to three (3) entries per artist

.

File Format: .jpg only, maximum 2 MB file size
File Name: Artist's last name_First initial_number of image
(Note: Do not place your name into the digital image.)
Example: Smith_M_1.jpg
ENTRY FEE
One $30 nonrefundable fee entitles each artist to submit up to three entries.
NOTIFICATION
Accepted entries will be posted on this web page by July 30, 2021. Individual notification will NOT be sent. Please check this webpage for the jury results.
ACCEPTED WORK
Presentation: All works must be delivered to Harper ready for hanging/ installation/display. For framed work, use Plexiglas only. Original work not accurately represented by the digital file may be declined at the discretion of the Juror. All work will be insured during the exhibition for the artist's stated valuation.
Shipping: Work must be shipped in sturdy, reusable cardboard containers to arrive at Harper College no later than August 24, 2021. In-person deliveries for local artists may be arranged during August, pending campus safety protocols. DO NOT use loose Styrofoam "peanut" packing. Works should not require special handling or instructions.
RETURN OF ACCEPTED WORK
Works will be returned in original containers via UPS as soon as possible after the close of the exhibition. The Exhibition will pay for return shipping, insuring containers per stated valuations.
CATALOG, SALES AND REPRODUCTION
In conjunction with the Small Works exhibition, a color catalog will be produced. Each participating artist will receive catalogs by mail after the exhibition closes. Harper College will not retain commission on sales. Consent to reproduction for publicity purposes for this or future Harper national exhibitions is considered granted.
ENTRIES FOR 2021 ARE NOW CLOSED

If you would like to receive information about next year's Small Works, please email us at: smallworks@harpercollege.edu
Carrie Johnson
Executive Director/Curator, Rockford Art Museum (RAM), Rockford, IL
Carrie Johnson has been with RAM since 2006, most recently as Executive Director/Curator, leading the development and innovative implementation of exhibitions while overseeing the care for and management of the RAM Permanent Collection. A Rockford native, she has a deep knowledge of the organization and a passion for supporting and working with artists, having also led the education department prior to becoming Curator in 2012—a position she has held longer than anyone else in the 106-year-old history of the contemporary art museum.
Johnson has helped facilitate a bevy of recent acquisitions to RAM, including works by Deborah Butterfield, Shelly Mosman, Carlos Rolón/Dzine, Dan Ramirez, and Vera Klement; Rockford natives Stephen Warde Anderson, Mike Lash, Jeanne Ludeke, and Fatherless Print Posse; plus several major collections to the museum, including the Susan and Steven Pitkin Collection (work by critically acclaimed self-taught African American artists); Laura and John Fraser Collection (122 works by an international roster of 57 contemporary artists, including several local artists); and the Jeff Stevens Collection (31 works by 14 artists, many of which are working Illinois artists). Johnson coauthored the 2013 book on the history of the museum and its collection, RAM 100: Rockford Art Museum, 1913–2013, and has served as a juror and/or speaker for myriad organizations, including Northern Public Radio, University Club of Chicago, South Shore Art Center, Rock Valley College, Elgin Community College and Beloit College. Feature exhibitions curated by Johnson at RAM include Cheryl Pope: Not Without a Fight, Chance Encounter: Julie Heffernan + Shelley Mosman, Bold Abstractions: Paintings from the Thoma Collection, Dwellings, The Laura + John Fraser Collection, Misfits, Bittersweet Observations, The Others, Deconstructing the American Landscape, The Wonderful World of Stephen Warde Anderson, Phyllis Bramson: In Praise of Folly, Printmakers Ball, Carlos Rolón: Now and Then, Tradiciones, Modern Metaphors, and many more.

Thanks to all the artists who entered the 2021 Small Works: Harper College National Juried Exhibition. The following artists have been selected by our juror:
Aodan

David Bower

Riley Brady

Sally Brogden

RJ Calabrese

Shelley Gilchrist

Blinn Jacobs

Colleen Kelsey

Dawnice Kerchaert

Ambrin Ling

Daniel McInnis

Joshua Newth

Bryan Northup

Eve Ozer

Michelle JY Park

Angela Piehl

Heather Ramsdale

Travis Roozée

Boryana Rusenova-Ina

Sarah Smelser

Ju Yun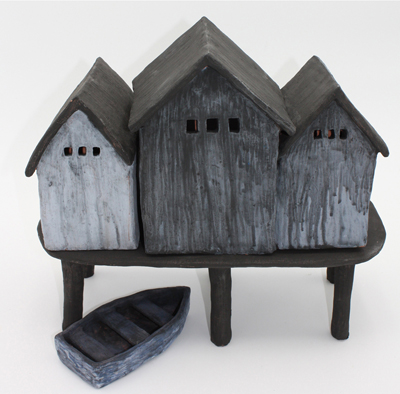 2019 Small Works Purchase Award:
Sharon Harper, Springfield, MO
there used to be three, 2018 ceramic, 10" x 12" x 6"
2019 Small Works Solo Exhibition Artist:

Scott Mossman, Chicago, IL