Student I.D. / HarperCard
Student I.D. / HarperCard
Coronavirus (COVID-19) Update for Student ID Cards
How to obtain an ID Card:
The ID Card Office in Building J is currently closed. If you wish to request a student ID Card, please fill out this form and a representative will respond with additional information within 2 Business Days.
Your HarperCard is your official Harper College student identification.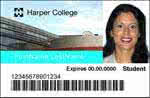 HarperCard
Your Harper Student Photo ID card, known as your HarperCard, can give you campus benefits like access to the College's library and computer labs. The HarperCard can also entitle you to Box Office discounts and other savings and services.
After you have registered for the first time, you can obtain your HarperCard at the Harper College Box Office (Building J, Room J135). A photo ID, such as a driver's license or passport, and proof of Harper College registration is required. Cards are valid for three years from the date of issue.
Credit Students
Credit students are provided a HarperCard at no additional cost. Your HarperCard is paid for by part of your Student Activity fee. Replacements for lost or stolen cards are available for $5.
Continuing Education (non-credit) Students
Please contact the Continuing Education Office at (847) 925-6300, or visit in person at the Wojcik Conference Center Lobby to initiate a Harper ID Card request.
Chosen Name
If you are a credit student and you have completed the process to request a chosen name, you can also get a new ID card. Please complete this ID request form and a representative will respond within two business days.
Hours
The ID Card Office is currently closed for in person visits. Please see the information at the top of this page to request an ID Card remotely.