Harper HSE Student Borrows a Machine to Sew Masks Between Classwork
Harper HSE Student Borrows a Machine to Sew Masks Between Classwork

Communications

May 27, 2020

May 27, 2020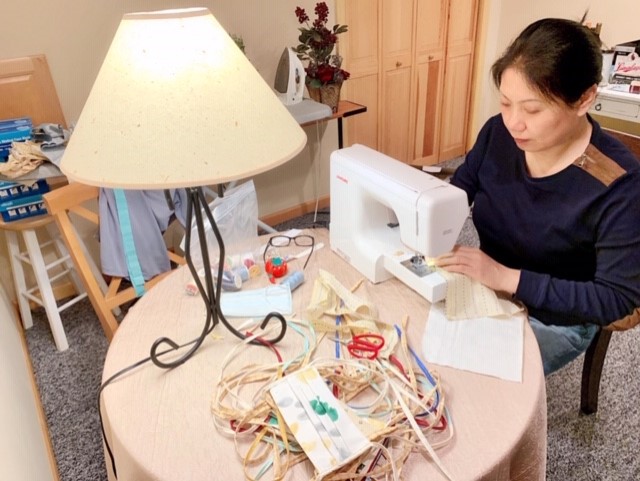 In 2008, Wen Liu's company transferred her to the United States to teach Chinese to preschool-aged children at the KinderCare located at Quentin and Algonquin Roads, not far from Harper College. Wen didn't speak any English and relied on a translator to help her communicate. Living and working in the U.S., she realized she needed to learn English.
She started taking ESL classes through Harper at the Community Resource Center, which is owned by Northwest Community Healthcare and managed by Partners for Our Communities (POC). As her speaking and writing improved, and she retired from her job, she decided to enroll in Harper's High School Equivalency (HSE) program to prepare for the HSE exam. She was taking classes three days a week at the center. While there, she discovered an interesting room where women came together to learn life skills and socialize as part of the Reaching Out Lifting to Excellence (ROLE) program. She was intrigued, particularly with the idea of learning to use a sewing machine. When she had lived in China, Wen had owned a fabric store, but she had never learned to sew. She was enjoying her new-found sewing skills and the camaraderie of the other women while working on projects that benefited the community when the pandemic hit.
While the center closed, the work of POC did not stop. They continued serving families in need through a variety of programs, and now there were more families in need than ever. Wen felt compelled to help. She approached POC's director (and Harper Adjunct Faculty member) Kathy Millin with an idea. Wen asked, "You have sewing machines that are going unused, could I borrow one so I can sew cloth masks for people?"
In between completing her Harper classwork, Wen has been sewing masks in her home with the borrowed machine. "Every week, I turn in 20 masks and get a new supply of material from the center," explained Wen.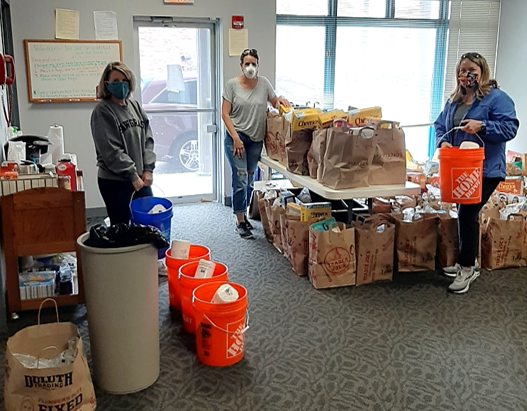 "Wen's masks are a work of art. She takes time to make each one pretty," said Kathy. "We include them in the buckets we deliver to families who have been quarantined." The center is literally filling buckets donated by Home Depot with bleach, hand sanitizer, rubber gloves, Lysol wipes and the handsewn masks and bringing them to families who cannot leave their homes. A week later, the center follows up with a second bucket delivery that includes Lysol spray, toilet paper, paper towels and other supplies along with essential food items, since the families can no longer come to the food pantry. The goal is to give the families enough supplies to last the two weeks of quarantine. "We are able to do all of this thanks to a small grant, Home Depot's donated buckets and donation drives run by local churches, Palatine's Community Consolidated School District 15 and other collaborative POC partners," said Kathy. "It means so much that people were so generous and have given up their precious supplies of hard-to-find items to help our families."
Many groups have come together to make this collective effort possible. All Saints Lutheran Church has been running the food pantry for the center, which now serves about 200 families on Saturdays, up from a pre-pandemic average of 30 per week. Other women who participated in the ROLE program are also sewing masks, but Wen was the only one who needed and asked to borrow a sewing machine, and Kathy was pleased to make that possible.
Kathy has been involved with the center since it opened 25 years ago, a relationship that began when she volunteered at the center as part of her service hours required for her ESL endorsement. She has been the director of POC for 17 years and continues to teach one class a week as an adjunct faculty member of Harper's Adult Education Department. Wen is continuing to take Harper classes and hopes to be able to take the HSE exam after a few more semesters of work.