We Are Harper: John Athamanah
We Are Harper: John Athamanah

Communications

January 22, 2019

January 22, 2019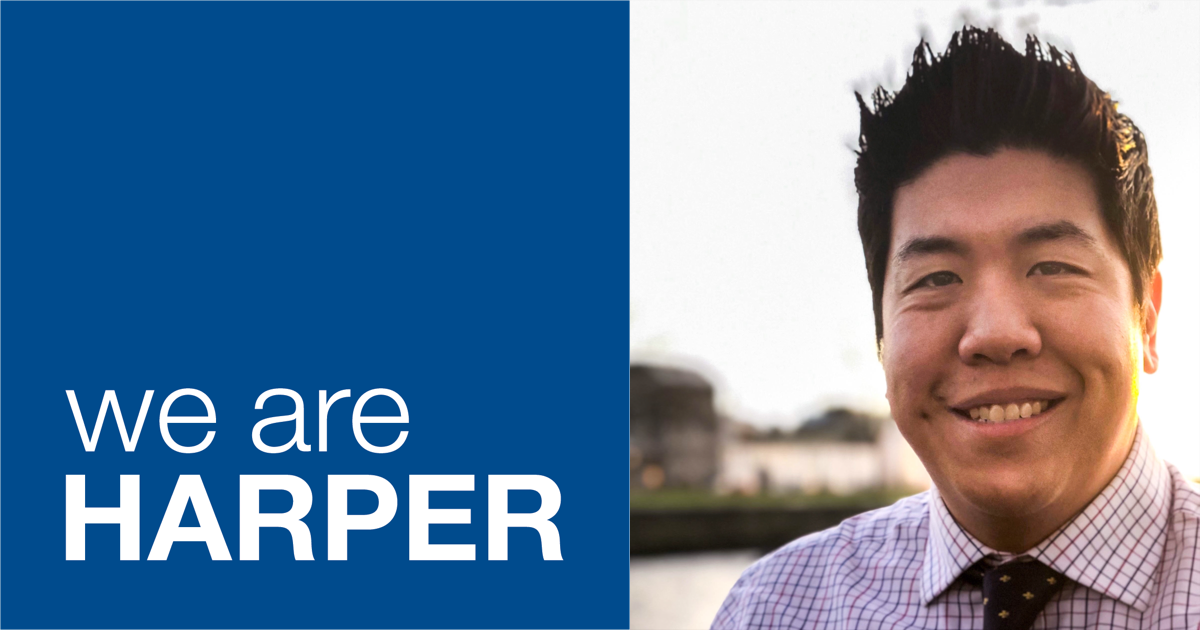 Name: John Athamanah
Affiliation: Faculty
Area of Study: Nutrition
One Word That Describes You: Resourceful
Hobbies: Playing guitar, Apple product repair and assembly, and trading stocks.
---
What led you to pursue a career in Nutrition?
When I was an undergraduate student, I was 30 pounds overweight. In the course of a summer, I lost 30 pounds through running, weight training, and nutrition. After this experience, I performed a web search on careers related to nutrition and I found dietetics as a professional path. From that point on, I changed my major to nutrition and dietetics and completed my education and internship to become a registered dietitian.
I enjoy teaching in this program because it provides me an opportunity to enrich the lives of our students. During my time as an instructor, I have found that students not just learn about nutrition but become educated consumers, practitioners, and evangelists of proper nutrition. I also really enjoy the "ah-ha" moment when a difficult concept is understood.
What led you to Harper College?
While working as a dietitian, I missed the academic environment and the sharing of ideas. I wanted to challenge myself and be challenged by students. I also wanted the opportunity to pass on some of the practical experiences that I obtained during my time working. There was an adjunct position posted and I applied. I have been here since 2007.
What

is your fondest memory at Harper College?
My fondest memory of working at Harper College was the first time I drove into the parking lot. I did not realize how large and pretty the campus was. I also remember how welcome I felt in the Health Careers office on my first day.
What challenges/opportunities do future professionals in this field face and how can Harper help prepare them?
The proliferation of nutrition information on the internet from both credible and non-credible sources is a challenge for nutrition and dietetic professionals. The confluence of nutrition sources can lead to conflicting messages received by the lay consumer of what proper nutrition is. This can be a challenge to the nutrition and dietetic professional that is trying to counsel or teach the lay public on science-based nutrition principles.
The nutrition program at Harper can help prepare future nutrition and dietetic professionals through our science-based principles set forth by the Academy of Nutrition and Dietetics. The courses in the Nutrition Program at Harper College are taught by Registered Dietitians. Lastly, our program is accredited by the Accreditation Council for Education in Nutrition and Dietetics (ACEND).
What advice do you have for future students interested in studying

Nutrition

?
A student pursuing a career in nutrition must be in a mode of constant inquiry. Nutrition is a science-based area of study that evolves through new findings that arise through research. A nutrition practitioner has to keep up-to-date with recent nutrition findings to ensure that the public is informed with the most relevant information.
Shout-out to:
I would like to give a shout out to Jane Allendorph. She brought me to Harper and has always been supportive of my career.
---
Let's get started.
Learn more about Harper College's Nutrition program. Have questions about registration, financial aid or advising? Contact Harper College's One Stop – your one stop source for information.