We Are Harper: Maria Vital
We Are Harper: Maria Vital

Communications

April 8, 2019

April 8, 2019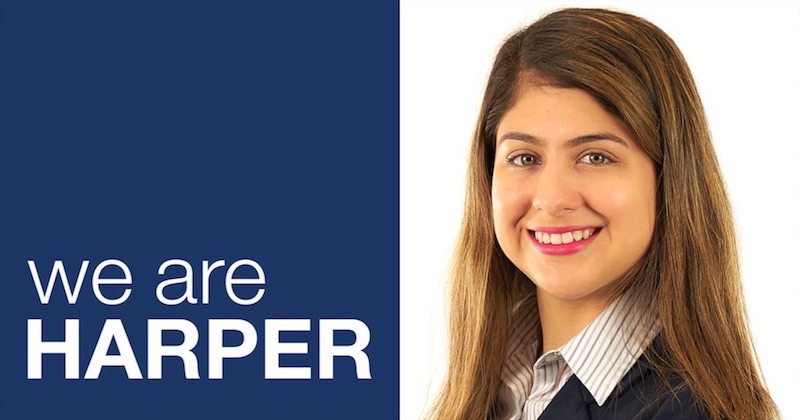 Name: Maria Vital
Area of Study: World Languages (German) and Business Marketing
One Word That Describes You: Ambitious
Hobbies: Reading, traveling, cooking, languages
---
What drew you to study World Languages?
I have always been passionate about languages and other cultures. Growing up, my family often traveled between Mexico and the U.S., so I understood from a small age that there is a bigger world. I saw that, by understanding other cultures and languages, I was able to look at the world from a different perspective, and I was eager to see how my passion and experiences around world languages could translate to a career.
What language did you choose to study and why?
I started off studying French at Harper College, but after three semesters I shifted my focus towards German. I learned German after completing an internship at a bank, where a significant number of our customers were native German speakers. Throughout this time, I learned how important German is in the business world, and took notice of the amount of German companies around Chicago including Siemens, Bosch, and Lufthansa.
What do you love about German?
The complexity and the beauty of the language appealed to me from day one. What started out as a quest to improve professional skills, led me to a deeper understanding of German culture. Their way of thinking and living is so unique when contrasted to what I'm familiar with both here and in Mexico. My study of the German language and culture opened up a whole new world which I hope to explore further.
What inspired your decision to come to Harper?
Harper was closer to home, it has a pretty campus and offers a great and affordable education.
What has your experience at Harper been like thus far?
It has been great. I've made meaningful friendships and connections, and I've learned and grown so much as an individual. During my time here, I was able to study abroad in Salzburg, Austria, which was an incredible experience. I thought, why wait to transfer to a four-year university to study abroad when the offerings at Harper are just as amazing.
What are your hopes and goals after Harper and beyond?
I was recently awarded the opportunity to work and study for a year in Germany through the CBYX Exchange Program (Congress-Bundestag Youth Exchange). This is a very competitive program to get accepted in to, so I am honored and excited to make the most of my experience. From there, I hope to transfer to a four-year institution to finish my studies in Business and German.
What advice do you have for future students who are considering studying a world language?
Go for it! It can be challenging, and it will take you outside of your comfort zone, but it is also extremely rewarding. Take advantage of some of the fun outings and study abroad opportunities available at Harper, too. It's one thing to study a new language, but another to immerse yourself in the culture.
Shout-out to:
Kim Jaeger for being an incredibly strong mentor and an amazing role model!
---
Let's get started.
Learn more about Harper College's World Languages program. Have questions about registration, financial aid or advising? Contact Harper College's One Stop – your one stop source for information.