We Are Harper: Mukila Maitha
We Are Harper: Mukila Maitha

Communications

October 29, 2019

October 29, 2019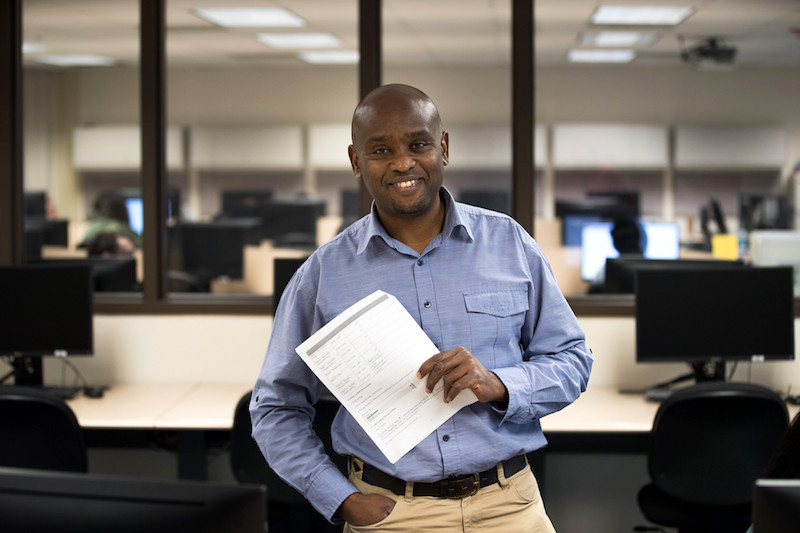 Name: Mukila Maitha
Program/Career: Geographic Information Systems (GIS)
Hobbies: Reading, outdoor recreation, experiencing different cultures.
---
What drew you to pursue a career in

Geographic Information Systems?
Geography has been my favorite subject since elementary school and I have always had a strong interest in nature and the world around me. I had the good fortune of being exposed to diverse cultures growing up in Nairobi, Kenya and this sparked my interest in the world around me. As a student at Northern Illinois University (NIU), I was introduced to GIS by a professor and took advantage of classes and internship opportunities that were offered to begin my GIS journey in 1993. This allowed me to land my first professional job as a data analyst and later GIS programmer for a leading map company.
Why do you like teaching this program?
There is never a dull moment teaching GIS because this field constantly evolves with changes in information technology. The technology is now considered mainstream and is used in virtually every industry that uses location based information. For example, the data that powers mobile apps such as Waze and Google Maps is housed in a GIS, retail businesses use GIS for market planning and site selection, facilities managers use the technology to track assets and maintenance operations, military personnel use the technology for reconnaissance and targeting, emergency responders use GIS for situational awareness and response planning, ecologists use GIS for habitat and species monitoring, and so on.
What led you to Harper College?
I joined Harper as an adjunct faculty member in 2010. I was fortunate to be hired full time the following year and I have taught GIS and physical geography courses at the college since then.
What is your fondest memory at Harper College?
My fondest memories at Harper involve collaboration. Seeing students work together to solve problems in a GIS class, teaming up with faculty to teach courses with integrated curriculum, creating successful study abroad programs, or joining staff in a project that benefits the college.
What challenges/opportunities do future professionals in this field face and how can Harper help prepare them?
Future professionals have to commit to continuous learning, because the field evolves with changing technology. At the present time, virtual/augmented reality, the Internet of Things (IoT), machine learning, budding 5G mobile technology etc. are opening new frontiers for GIS and professionals who invest their time in learning these technologies and finding opportunities will not be disappointed.
Our Geography Department has an advisory committee consisting of GIS managers and technical experts who help us stay current with our curriculum. The college has made resources available so that students learn using hardware and software that is required in the field. A growing number of internship opportunities are available to help students cultivate work place skills.
What advice do you have for students interested in pursuing a career in

GIS

?
Explore current GIS careers at websites such as https://jobs.aag.org/ or http://www.gjc.org/, be prepared for a lifetime of professional development through continuing technical education, keeping up with GIS literature, participating in professional organizations or conferences, and perhaps volunteering your time to help an organization (nonprofit or school) use GIS.
Shout-out to:
There are many, but for now I will give a shout out to my students and geography colleagues!
---
Let's get started.
Learn more about Harper College's Geographic Information Systems program. Have questions about registration, financial aid or advising? Contact Harper College's One Stop – your one stop source for information.