You've Got Questions? We've Got Answers! New Student Orientation – Guiding Your Student to Success
You've Got Questions? We've Got Answers! New Student Orientation – Guiding Your Student to Success

Jenyl Keeton

April 17, 2017

April 17, 2017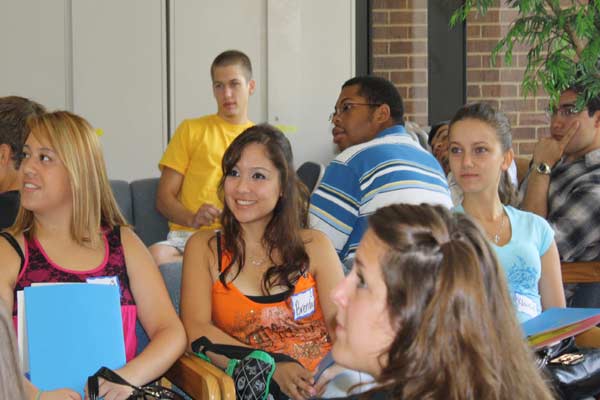 Here at Harper College we are gearing up for our most exciting time of year… the fall semester. It's a time for new beginnings: new classes, new books and most importantly – NEW STUDENTS! We are looking forward to meeting with your student this summer at New Student Orientation and helping them prepare for their first semester.
Why is Orientation required? This is a great question – and we hear it all the time. Orientation is required for all new, degree seeking students and will inform them about everything they, and you, need to know about being a new college student – specifically at Harper. We cover all of the things that are important to your student including what courses they should take, where to eat on campus, what sports they can play and how to get connected with other students. We also cover topics that are important to parents including tuition and fees, payment options, campus safety and so much more. It is important to know that we are here to guide your student from start to finish.
What actually happens at Orientation? The day begins with a meet and greet with current students, allowing your student to start out feeling connected and engaged. You and your student will have the opportunity to attend a small group presentation which covers all the "need to know" topics. Lastly, your student will meet with an advisor individually to discuss academic interests and career goals. Together, they will select the appropriate courses and your student will be able to register that day.
What can I do to help my student prepare for Orientation? It is helpful to talk to your student about what they plan to accomplish during their time at Harper. For example, what is your student's goal? Do they want to enter the workforce quickly or do they plan on transferring for a Bachelor's degree? Are they considering Healthcare, Education, Engineering or some other field? If they don't know the answers to these questions, that's ok – we want to encourage them to think about it. Educational requirements vary greatly depending on what area of interest they plan to pursue. We will work with your student to get them on the right track from the first semester.
Check out Steps to Enroll for New Degree-Seeking Students for important information about items that should be completed prior to Orientation.
If you have any questions, feel free to reach out to us at the Center for New Students and Orientation by e-mail or phone at 847-925-6208.