We Are Harper: Linda Schumacher
We Are Harper: Linda Schumacher

Communications

April 17, 2019

April 17, 2019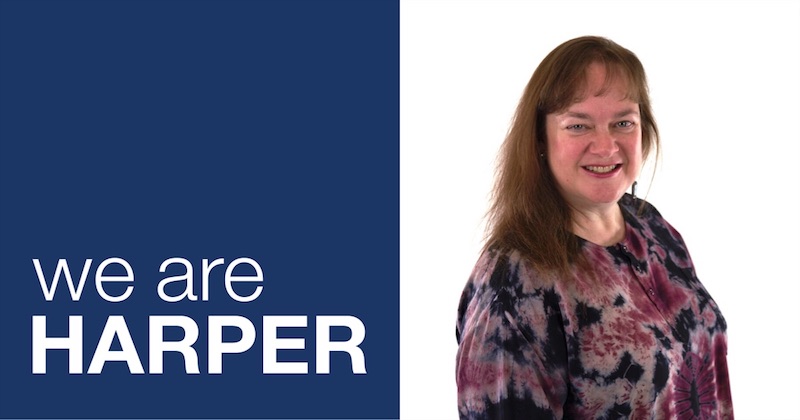 Name: Linda Schumacher
Nickname: Profe
Program: World Languages (French and Spanish)
One Word That Describes You: Passionate
Hobbies: Travel for culture and adventure, jazz, theatre, dancing, SCUBA, gardening, photography, my fish, eating cheese fondu (or any cheese really).
---
What drew you to pursue a career in

World Languages?
I was interested in learning French since I first heard Nibbles in the Tom and Jerry cartoon speaking French, "Touché, Pussycat. Frère Jacques, dormez-vous? En-garde. C'est la guerre." My learning experience began with a fantastic teacher, Monsieur Zafrani, at Elk Grove High School and continued while living with families in France thanks to a Lion's Club scholarship. I was hooked.
I studied at the Sorbonne University in Paris while in undergrad and then had nearly completed my major as a sophomore, so I started my studies of Spanish. I was fortunate to have more wonderful professors and began a Masters in Spanish and in Education. My M.A. included studying in Toledo, Spain and ultimately led me to conduct research for my thesis while living in Ecuador.
I have always loved theatre and performing, and I was teaching friends and neighbors when I was a child. My mother was also a teacher, so it must be in the blood. Teaching allows me to perform daily and my background in theatre and communications (another major) has aided me to bring my energy and enthusiasm for my disciplines into the classroom. I adore teaching languages because you are teaching students to appreciate other cultures, become informed about social justice issues, and learn about history all while they are acquiring a new language. Also, it's a lot of fun!
What led you to Harper College?
I moved back to the area and took an interest in Harper College due to its reputation for excellence among community colleges.
What is your fondest memory at Harper College?
It's difficult to choose one memory at Harper College, however, I asked my students what one word they would use to describe me since I couldn't choose just one. Their responses made me remember why I love teaching and interacting with my students daily. They sent to me the following responses: compassionate, warm-hearted, energetic, driven, caring, zealous, bubbly, passionate, ebullient, amazing, generous, adventurous, dynamic, dedicated, talented, determined, resourceful, involved, excellent, personable and wonderful.
Anytime that my students and I are engrossed so much in an activity that we don't even realize that class has ended excites, amazes and impresses me. Interacting with my students in the classroom, during my office hours and while participating in off campus cultural activities all have produced fond memories.
What challenges/opportunities do future professionals in this field face and how can Harper help prepare them?
There is a shortage of qualified individuals to teach language at the college level. Therefore, there is much opportunity to enter the field, and a degree, whether a major or a minor in a language, can assist you in landing a job not only in education but as an interpreter, a translator of websites for international companies, an agent with the FBI or CIA, a position in sales, import and export, hospitality, foods, nursing, law enforcement, travel consulting, as a guide, a textbook representative, a website creator, a flight attendant, in insurance, housing, building, landscaping, assisted living, accounting, engineering, ministry, transportation and many more. It can be a challenge to keep up with a language if you don't use it regularly. The best way to proficiency is to immerse yourself in the culture and language by living with a family in a country where the language is spoken. Luckily, Harper College has scholarships and grants to help students make this a reality.
What advice do you have for students interested in pursuing a career in World Languages?
My advice is to persevere. Truly learning a language takes time and daily practice. You need to take advantage of every opportunity you can to practice no matter what your skill level. You can't improve if you don't make the effort, so you should not be self-conscious about making errors. You should take risks and ask speakers of the target language to correct you and to practice with you. You should listen to music, watch movies, follow blogs, take advantage of local events, and travel to where you can hear and practice the language whenever possible. Learning the language of others is the highest compliment you can pay them. It shows that you have taken an interest in their culture and their lives. Never give up!
Shout-out to:
My students and the relationships that have transcended the professor/student relationship after they have moved on have made my experience special.
---
Let's get started.
Learn more about Harper College's World Languages program. Have questions about registration, financial aid or advising? Contact Harper College's One Stop – your one stop source for information.