Sexual Assault Awareness Month Amid COVID-19
Sexual Assault Awareness Month Amid COVID-19

Harper Wellness

April 13, 2020

April 13, 2020
On a national level, April marks Sexual Assault Awareness Month (SAAM). While the month typically entails a variety of in-person events and programs to bring awareness to the important month, the COVID-19 pandemic has shifted these interactions across the world. As people continue to grapple with the vast shifts in everyday life due to physical distancing protocols, it's even more important to be aware of how we can all be an active bystander in preventing sexual assault and other forms of interpersonal violence.
Below are some ways in which you can help support survivors of sexual assault and other forms of interpersonal violence in order to help create a safer and more inclusive campus and community environment:
1. Start By Believing - Research shows that many victims who come forward are often not believed or are doubted by the person the individual disclosed this information to. As a result, a negative or questioning reaction can unfortunately cause additional trauma and other harmful effects for the victim. If someone discloses to you that they have been sexually assaulted, the simplest thing you can say yet has the most positive impact is, "Thank you for telling me. I believe you, and I am here to support you." Even though all individuals employed and/or appointed by Harper College, including but not limited to faculty, staff, student workers, and volunteers are considered Mandated Reporters and are required to report any sexual harassment, discrimination or sexual assault they may have become aware of, it's important to remember that an individual's first response to a victim can make such a difference.
2. Resources - While you certainly don't need to know all of the resources that are available to those who may have experienced sexual assault or interpersonal violence, it's important to know that these resources exist and are available to victims. The National Sexual Violence Resource Center offers a robust directory of resources that are specifically designed to help support victims and survivors of sexual assault and interpersonal violence. The National Domestic Violence Hotline, Northwest Center Against Sexual Assault, and the Rape, Abuse and & Incest Network (RAINN) are also important, reliable and trusted resources.
3. We Can All Play A Part - All of us will have certain comfort levels with how we choose to be an active bystander. However, there are many different ways we can interrupt and intervene in a potentially problematic situation. Active bystanders, or upstanders, can help create a more positive and safe environment at Harper and beyond. Distract, Delegate, Document, Direct and Delay are just some of the ways in which you can intervene in a situation.
4. Education - Sharing and providing access to resources for victims is an important piece to eliminating and reducing sexual assault, but it's equally important to continually educate ourselves on how we can help prevent sexual assault and other forms of interpersonal violence within and outside our communities:
The It's On Us campaign provides a robust toolkit

you can utilize to help

you learn and better understand how each individual can play a critical part in creating a safer and more inclusive campus community and environment.
S

P

EAK UP is offering free training until the end of April 2020.

This online sexual assault prevention education program incorporates powerful stories told by survivors of sexual assault, rape, and stalking. The videos, content, and activities presented in SPEAK UP cultivate an atmosphere of individual engagement that promotes learning.

LinkedIn is offering a free Bystander Training for the workplace, which provides tools and strategies for employees to use in the workplace in order to help create a culture of respect.
See how staff and faculty at Harper College are promoting Environmental Wellness on campus and beyond: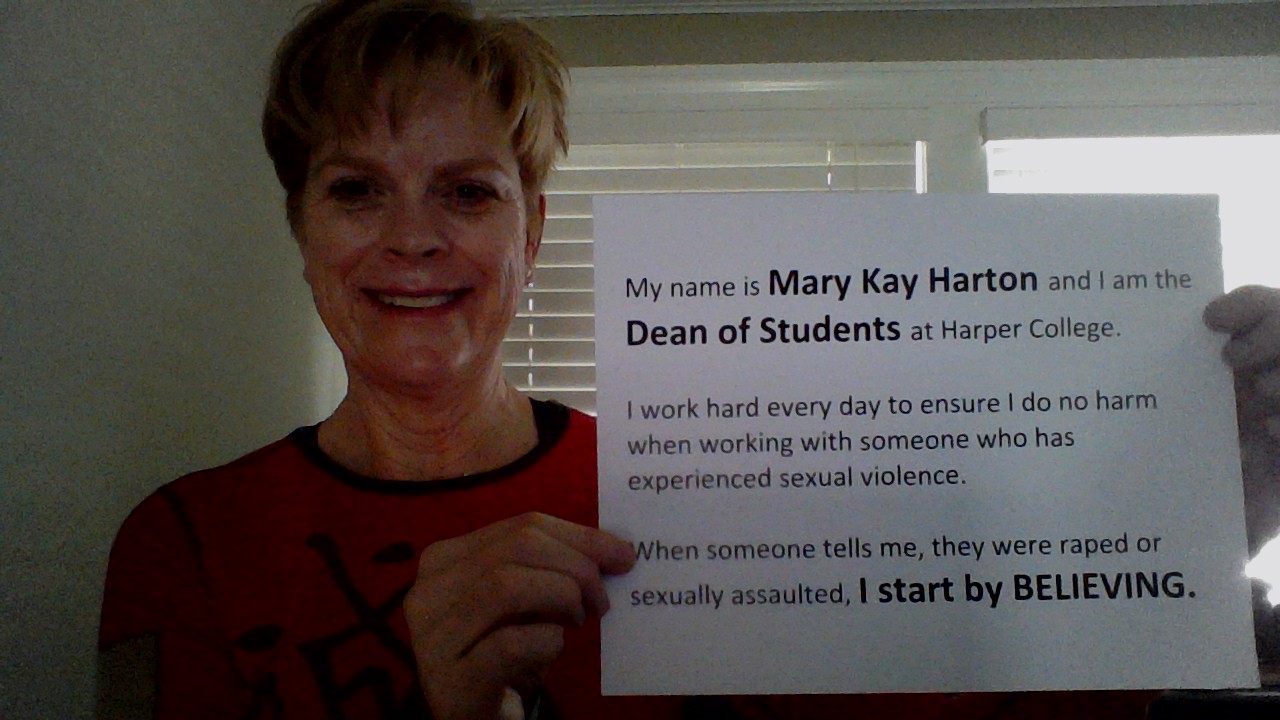 .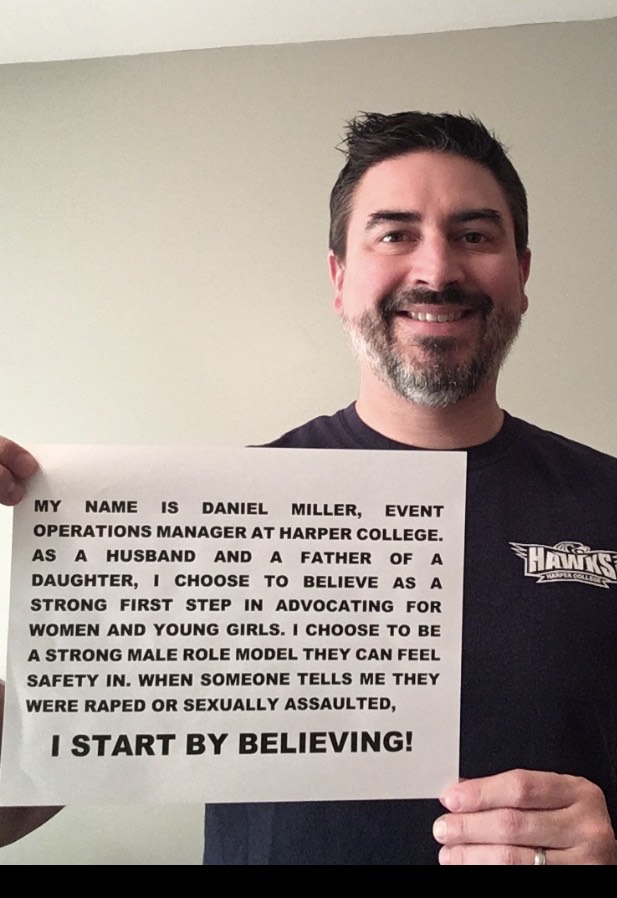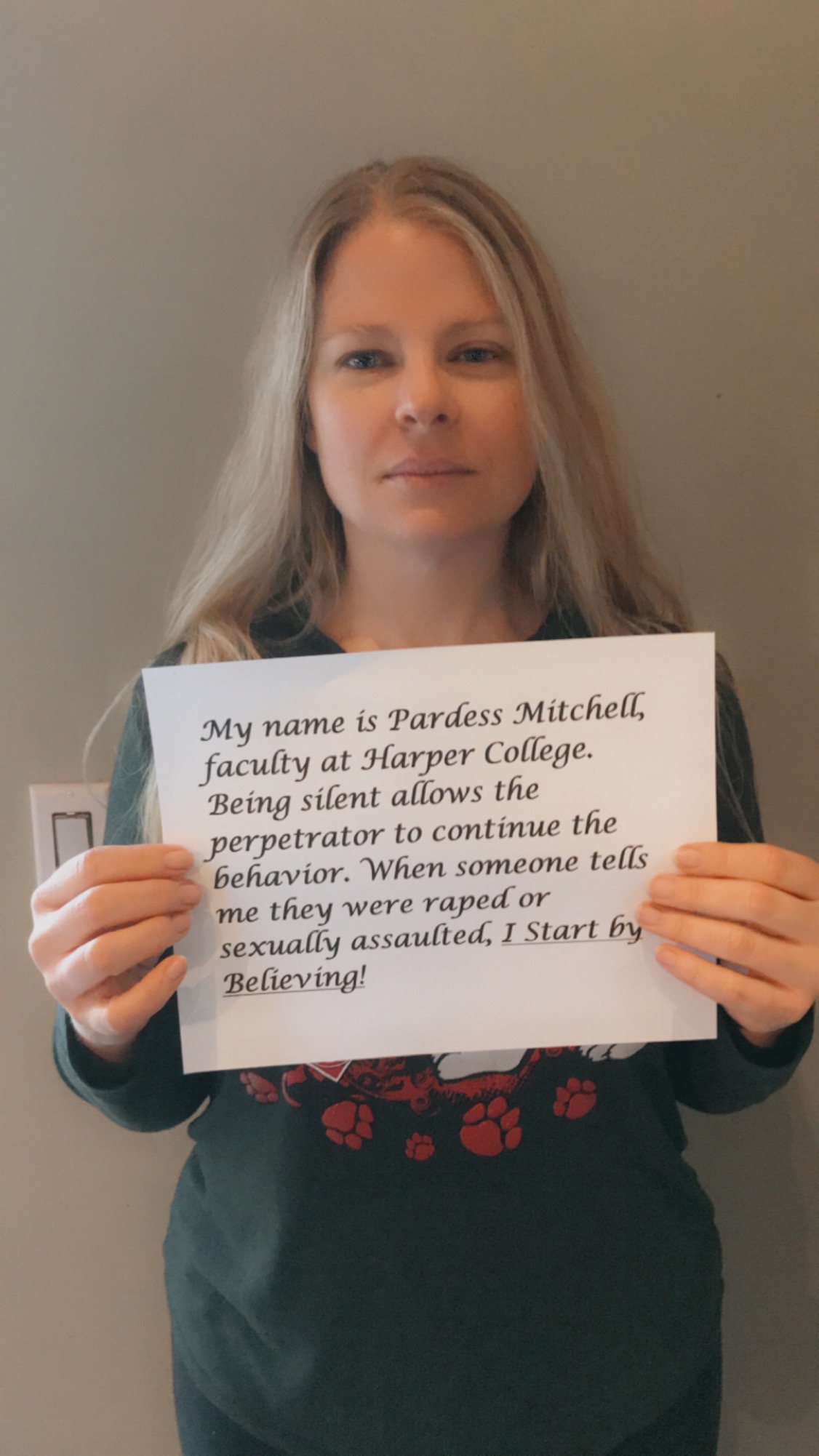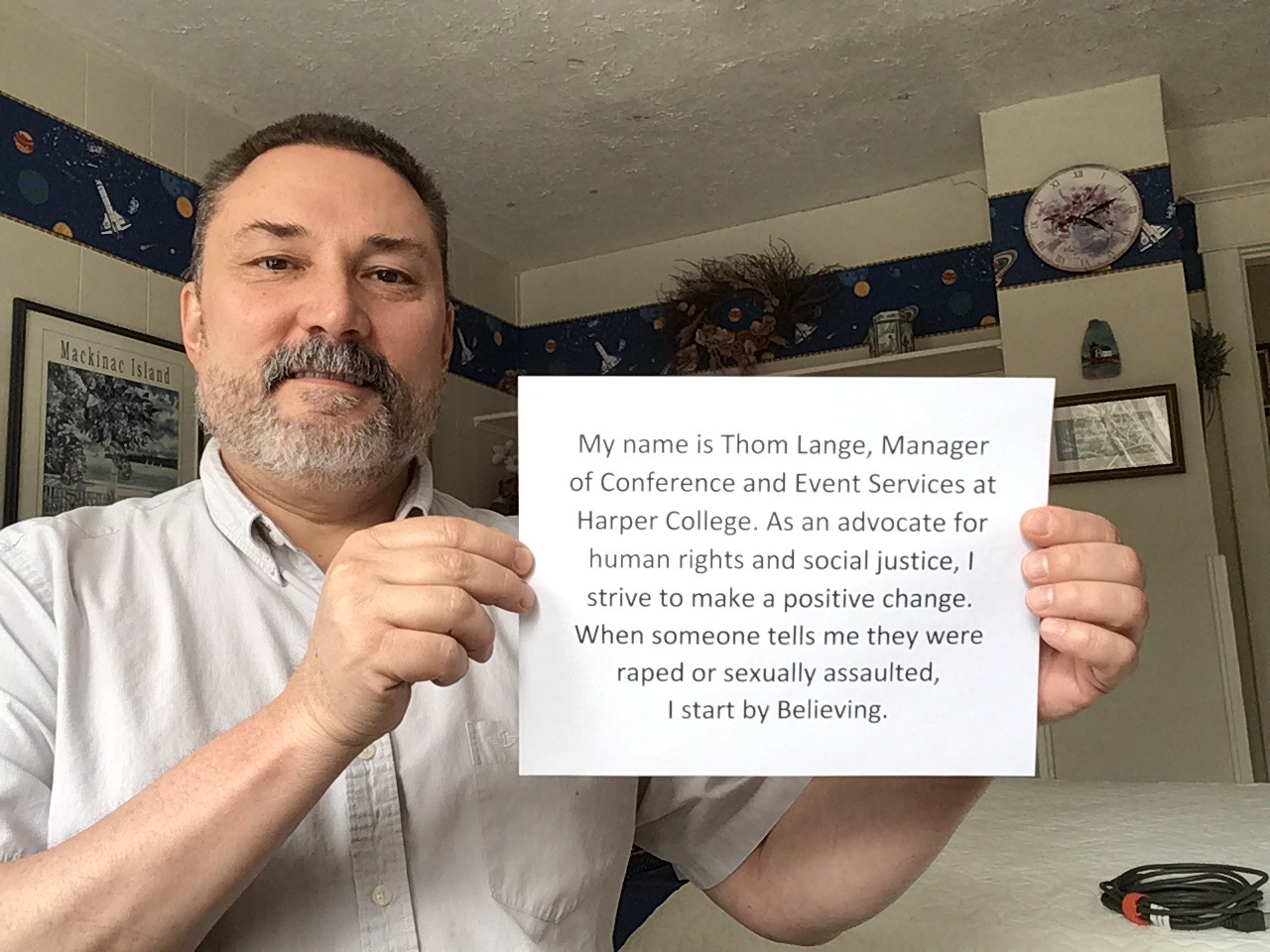 Check out the @harper_wellness Instagram for the complete collage of Harper College faculty and staff "Start By Believing" photos.