Wrapperoo

SBDC

February 25, 2020

February 25, 2020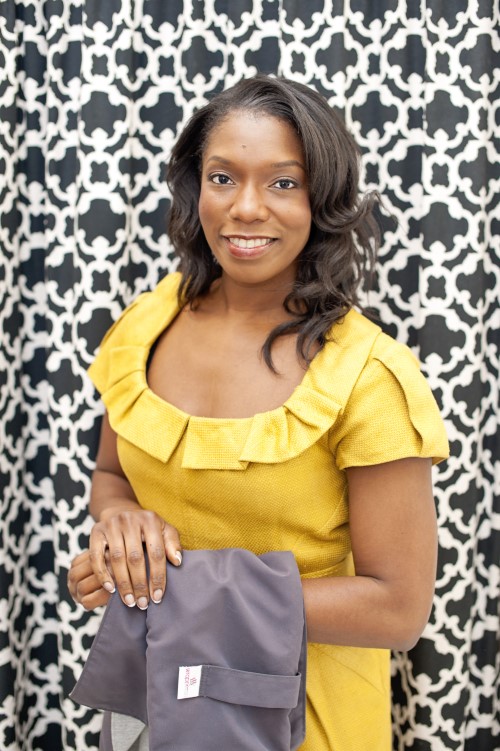 "The SBDC

is a one-stop shop whether you are just getting started or in a growth phase

."
- PJ McGuire, Owner
Wrapperoo, Chicago, IL
If you're like most people, your morning routine is probably a bit hectic. Anything that could help simplify things would be an improvement. Wrapperoo might be just what you're looking for! Wrapperoo is a hair towel that easily transforms into a water and heat resistant styling cape. It's the all-in-one solution to protect your skin and clothes from those annoying drips and spills. Sort of like the Swiss Army Knife of your hair and beauty routine!
Why did you choose to launch Wrapperoo?
It was a very interesting journey. I initially developed Wrapperoo because I wanted it for myself. Messing with hair towels and capes wasn't working for me. I needed an all-in-one solution. I then made Wrapperoos for my mother, some girlfriends, and even my father! My dad recognized how useful and unique it was, and kept pushing me turn it into a business. He also suggested I file for a patent. I was hesitant to start the business though. I had launched service businesses before, but never a product based business. They are very different. With physical products you need to consider production processes, inventory management, shipping, and the whole customer experience from beginning to end. I needed to learn how to do all of that. I finally realized that life can take you on a path very different from what you plan. You can fight it, or just accept it and give it a shot. I chose the latter and in 2014, I launched Wrapperoo. In January of 2017 I surprised my dad with our patent. I had secretly listed him as a co-inventor when I filed the paperwork. Needless to say, he got a bit choked up.
To what do you attribute your success?
I would say being persistent and resourceful. If something wasn't working, I didn't give up. I just kept pivoting. Early on, I had to figure out a better way to manufacture Wrapperoos. The manufacturers I had lined up were either poor quality or went out of business. I ended up recruiting a collective of women to sew Wrapperoos for me. Quality control was still a concern with this method, but by providing everyone with detailed instructions and patterns, it seems to be working. I also try to remember that everything happens for a reason. For example, in the beginning, I was working out of my home. One day a wall of shelves collapsed due to some construction in the apartment upstairs. This forced me to accept that I couldn't continue to work out of my home. I needed to find warehouse space, so I looked into renting a storage unit. I ended up getting a deal on a much larger unit for the price of a smaller one.
What does the future look like for Wrapperoo?
Obviously, I would love for Wrapperoo to become a household name. However, I've realized that the business is actually bigger than me and it can serve a higher purpose. I would like to use it as a way to help women through job creation or special training programs. I also want it to be a way to inspire young girls. There are not a lot of women in product based manufacturing businesses. I want to encourage girls that if they have an idea, they should go for it. I'm also keeping my options open. At some point, I might entertain licensing deals or a buy out by a larger business. You never know what could happen!
What advice do you have for someone just starting out?
I have learned so much since I started Wrapperoo. In the beginning, I didn't do an adequate job of vetting vendors. I simply accepted that I needed everything they said I did. The lesson was to only buy what you really need for that point in your business. Before spending money, think twice. It might be something that can wait until later. Also, with any manufacturing business be aware of the manufacturer's requirements for production runs. If they're forcing you to produce a year worth of inventory, try to find an alternative way to produce in smaller quantities. You might pay more per unit, but you'll save on the back end, and have more cash available for other things like marketing. I recommend you try to learn every aspect of your business. You don't necessarily have to master everything, but learn the basics. For example, with a textile based business, learn to sew. This will enable you to make better decisions, such as selecting vendors and deciding whether you need something now or later. Lastly, don't forget to take care of yourself. Get enough sleep. Take that break when you need it. My favorite self-care is to pamper myself with some spa time. With a Wrapperoo on my head, of course!
Would you recommend small business owners use the services of the Illinois SBDC at Harper College? Why?
Absolutely! Absolutely! They are a one-stop shop whether you are just getting started or in a growth phase. When starting out, you probably won't yet have a team in place, but you obviously can't do everything yourself. Meeting with the advisors at Harper's ISBDC is actually a great way to grow and expand your team. The advice and guidance I received from them has been very helpful. They are especially useful when it comes to learning about options to finance your business. The ISBDC at Harper is also a great educational resource. I've attended multiple workshops that have helped me learn how to grow the business.