Mask Guidelines
Everyone coming to Harper College's campus must wear a face mask when they are inside buildings. (Note: Effective Aug. 16, masks will be optional indoors for fully vaccinated individuals.) Masks are not required outdoors on campus. The college encourages those who are not vaccinated to continue wearing a mask outdoors when social distancing is not possible. We wear masks to protect others. Working together, we can ensure a safe environment for all.
Disposable masks are available in most offices on campus.
How to Properly Wear a Face Mask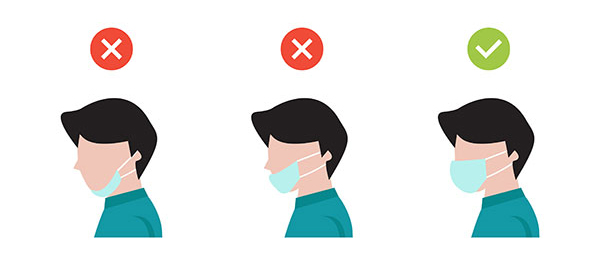 Masks should be worn over nose, mouth and chin.
Neck gaiters and valved masks are not allowed.
For more information, see "How to Properly Wear a Facemask" (Johns Hopkins University).
Special Circumstances​
Employees may take off their masks if they are in their office and are alone.

Anyone coming to campus must wear a mask, unless they have a medical reason or disability that prevents them from doing so. Students seeking an accommodation must contact the dean of students prior to coming to campus:
Mary Kay Harton
mharton@harpercollege.edu
847.925.6221