Mask Guidelines
Everyone coming to Harper College's campus must wear a face mask over their nose and mouth when they are inside buildings. Masks are not required outdoors on campus social distancing can be maintained. We wear masks to protect others. Working together, we can ensure a safe environment for all.
Disposable masks are available in most offices on campus.
How to Properly Wear a Face Mask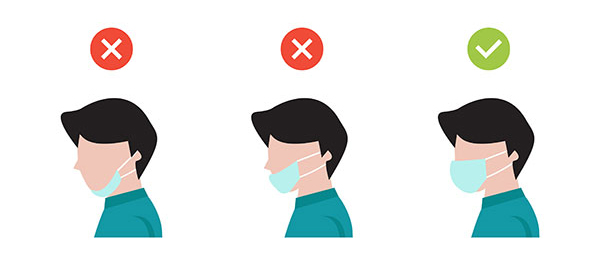 Masks must fit snugly and be worn over nose, mouth and chin.
Neck gaiters, bandanas and valved masks are not allowed.
For more information, see "How to Properly Wear a Facemask" (Johns Hopkins University).
A student may be asked to leave a classroom or building if they are not properly wearing a mask. Students may also be referred to Student Conduct if they do not follow the mask wearing guidelines.
Special Circumstances​
Employees may take off their masks if they are in their office and are alone.

You may briefly remove your mask when actively eating or drinking.

Anyone coming to campus must wear a mask, unless they have a medical reason or disability that prevents them from doing so. Students seeking an accommodation must contact the dean of students prior to coming to campus:
Mary Kay Harton
mharton@harpercollege.edu
847.925.6221
Employees seeking additional guidance for monitoring mask wearing may visit HIP.