Harper College Police
Message from the Chief:
On behalf of the men and women of the Harper College Police Department, it is my pleasure to welcome you to our website. Our police department provides an environment where all members of the community can safely learn, work, and visit. The men and women of the Harper College Police Department are an integral part of the campus community. Our goals are to reduce crime and the fear of crime, create collaborative relationships with campus constituents supporting student success, and enhance community and law enforcement partnerships. Through the development of our personnel and accountability to our community, our actions speak directly to our promise to make Harper College a better and safer place.

Chief John R. Lawson M.S
---
HARPER COLLEGE POLICE DEPARTMENT
The men and women of the Harper College Police Department are here to serve the law enforcement needs of the campus community. We are on duty 24 hours a day, 365 days a year and are located in Building B.
Student success is our priority. We are frequently the first and most recognizable representatives of Harper College when community members arrive at the campus. We assist you with everything from patrolling the campus, to investigating crimes and traffic accidents, to serving as content experts in the classroom. We welcome opportunities to engage with the campus community and to keep Harper College a safe place to work and learn.
Historically, Harper College has been a safe campus; however, we ask that you assist us by reporting any suspicious activity you observe. Remember- If you see something- say something.
Finally, we do our best to provide the professional law enforcement services to the campus, but we always are looking for ways to improve. If you have a suggestion for us, please send us an email or call 847.925.6330.
Emergency Information
Safety is our number one priority. Learn about Emergency Procedures.
LIFE THREATENING INJURIES: CALL 911
For non-life threatening incidents occurring on campus, refer to Environmental Health and Safety, Risk Management for guidelines on Injury Reporting.
RUN, HIDE, FIGHT. Surviving an Active Shooter Event
EMERGENCY PROCEDURES AT HARPER COLLEGE
ADOPTION OF 10 SHARED PRINCIPLES: Opening the Dialogue to Students and Law Enforcement
Harper College Police
Building B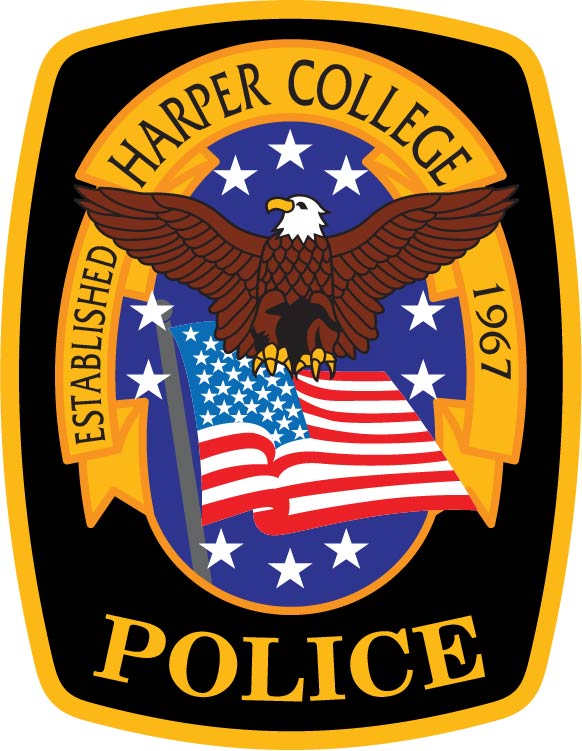 Non-Emergency 847-925-6330
Emergency 847-925-6211
Mobile/Text TTY 847-350-1093
Medical Emergency: 911
Open 24 hours
Please take a moment to tell us about the service you received by completing a short survey at:
HCPD Online Survey