Early Childhood Laboratory School
Learning and Enrichment for Young Children
For more than 30 years the Early Childhood Laboratory School of Harper College has provided a warm, nurturing environment in which children feel secure and can learn and grow. The center provides an exemplary educational environment for young children and serves as a model of teaching methodology for Harper's early childhood education students.
The Early Childhood Laboratory School offers an enriched learning environment and personalized care for your child. Full or half-day programs are available for children of students, faculty, staff and the community. The needs of young children are met with a child-centered curriculum designed to encourage safe exploration and discovery.
The classrooms are divided into interest centers and are designed to encourage children's learning through investigation, exploration and problem-solving.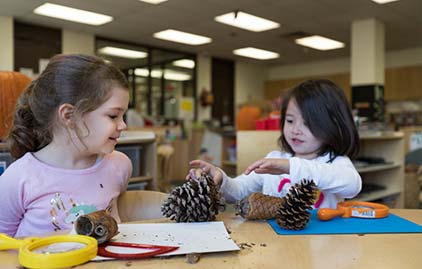 The Early Childhood Laboratory School of Harper College is licensed by the State of Illinois Department of Children and Family Services and accredited by the National Association for the Education of Young Children (NAEYC). The Lab School has received an award for Exemplary Practice from the Illinois State Board of Education and a Gold Circle of Quality from
ExceleRate Illinois.