Experience Day 2020
The Makerspace and Entrepreneur Center
Activity 1: Bring a Bristlebot to Life!
Create your own zippy bot in minutes with this fun filled electronics kit!
Bristlebots are a fun way to learn about basic engineering, motor, circuits, and principals of balance. Creating a bot is simple, just attach the parts to the tooth brush head and watch them go. Change the way they move and behave by adjusting the balance and pipe cleaners.
Each Bristlebot Kit includes all the parts you need to create your own bot. Building a bot takes 5-10 minutes of time and their included battery lasts for up to 2 hours. Bristlebots are not intended to be taken apart and reused, however some parts can be individually reused.
We recommend Bristlebots for anyone ages 10 and up due to the small parts and included coin cell batteries. Here's what they look like when assembled:
...and here is a video about how to build your Bristlebot:
And an idea for later – build your bot it's very own maze to navigate!https://youtu.be/jkoXs5HrUjU
Click here for a pdf of instructions in English - Clic aquí para instrucciones en español.
See below for Catapult Instructions and Guide. You can also click here for the pdf instructions.

Cut with our laser and complete with a great back story!
1) Carefully punch out the puzzle pieces and place them face up on a table in front of you.
Are your fingers a little dirty? That's ok - remember, a laser beam actually cut these pieces, so you may have some burned cardboard dust on your hands. The cardboard may even smell like burned paper - cool, right?
2) Look very closely at the puzzle pieces - do you see any clues on some of the pieces that could help you decide how to put them together? Give your giraffe a little personality by coloring it and attaching googly eyes before you put it together.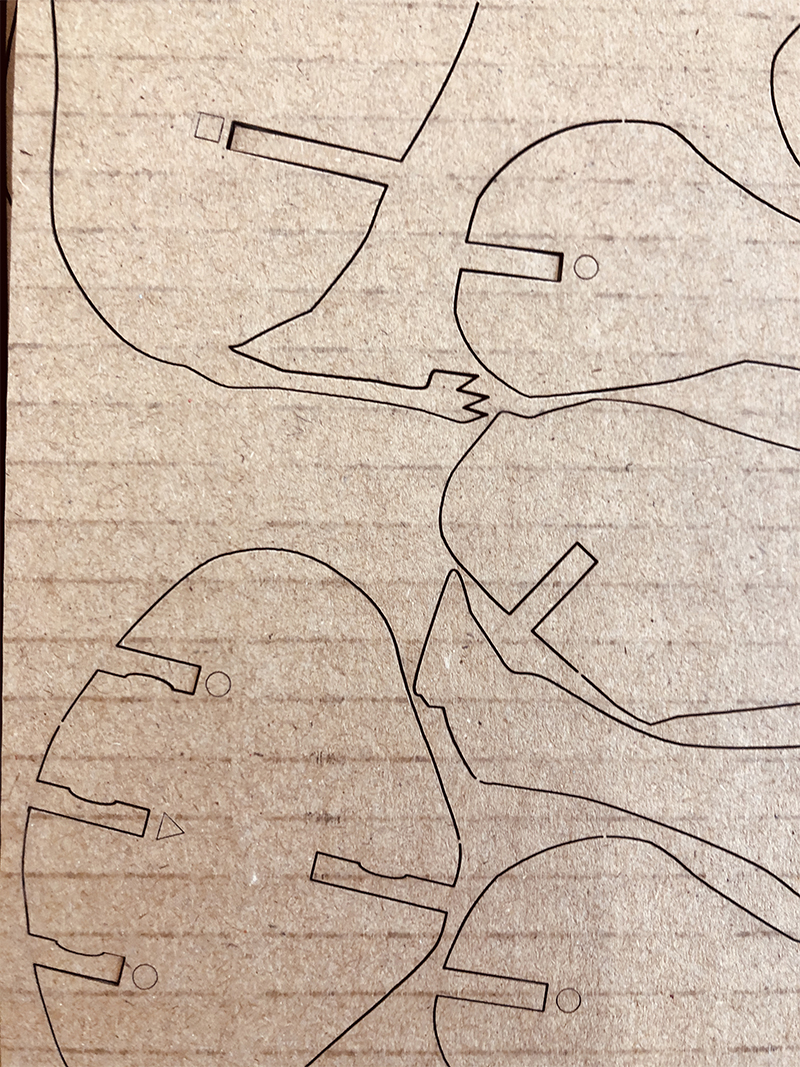 3) You are ready to put the puzzle together. Go ahead and give it a try! Don't be afraid to get it wrong the first time - making mistakes is actually a great way to learn! Look at the photo of the giraffe to guide you...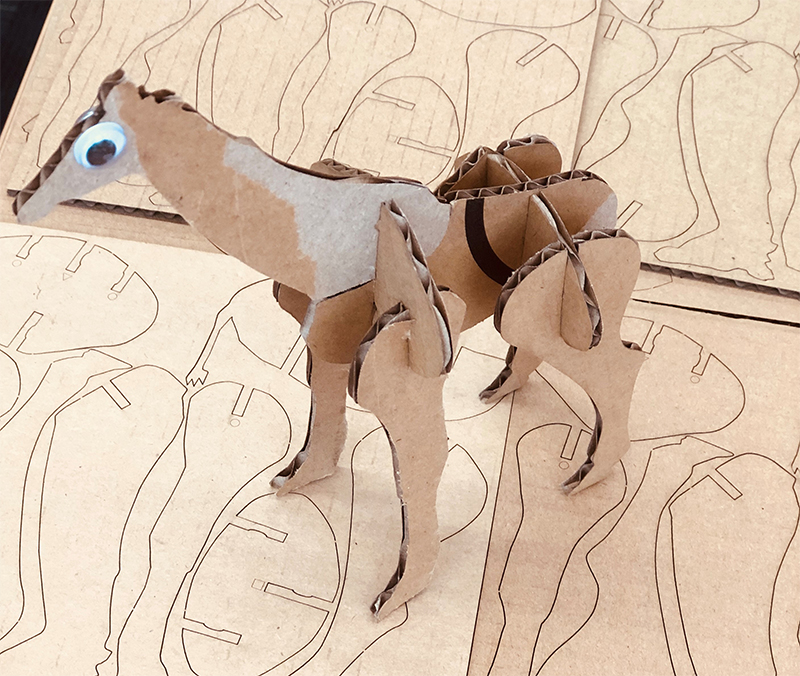 Find out where your giraffe came from by reading about our COVID response: harpercollege.edu/maker/covid
1) 3D Design with Tinkercad (Ages 8+)
A 90 minute guided session teaching you how to create your very own 3D design. Your choice of dates on Thursdays in November, 4-5:30pm, pick one session! Limited spots available on each Thursday, best for ages 8-18. Sign up for your session with these links:
11/12/2020 4:00pm https://MakerspaceScheduleHarperCollege.as.me/?appointmentType=17430491
11/19/2020 4:00pm https://MakerspaceScheduleHarperCollege.as.me/?appointmentType=17430510
2) Build a mini Robot Vacuum (Roomba-type) (Ages 8+) *** New Time ***
Pick up the kit at the college during one of our pre-arranged times, and join a fun OPTIONAL livestream session to show you how to put it together on November 18 from 4:30 - 5:00pm or November 19 from 2:00 - 2:30pm. Don't forget to select a pickup time.
View the webpage with all the details here.
3) Learn about our Virtual Robot Rumbles (Ages 10+) *** NEW DATE ***
Get a sneak preview of our virtual Robot Rumbles coming soon to the makerspace on November 21 from 11:00 - 11:30am! Learn how to enter and participate in our December competition.
4) Hour of Code - "Learn Computer Science, Change the World"
Try a one-hour tutorial designed for all ages. Join millions of students and teachers in over 180 countries by starting with an Hour of Code. Click here for some fun coding activities.
Sign up for our newsletter to keep up with all the cool things going on here at the Harper College Makerspace and Entrepreneurial Center. Click here to fill out our form. Don't forget to check the box "Receive updates from the makerspace"!