Graduation and Commencement
Message from the Board of Trustees Chair
May 16, 2020
On behalf of the entire Harper College Board of Trustees, I'm pleased to offer our sincere congratulations for a job well done! Your final year has been unlike any other. Your ability to reach this point is a result of your individual determination, resilience and grit. These are qualities that will serve you well as you progress toward your next milestone, whatever that may be.
Student achievement is the Board's most important consideration. We hear many inspiring stories about individual students and their successes at Harper College. These examples emphasize the student potential that exists here and have made us eager to support student success initiatives. Your success continues the legacy of excellence associated with Harper College.
While this day is uniquely yours, I would be remiss if I didn't acknowledge the contributions of the faculty and staff to your accomplishments. Their efforts have been extraordinary, particularly during this challenging time, and are greatly appreciated by the Board of Trustees.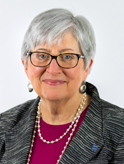 Pat Stack, Chair
Harper College Board of Trustees
Commencement CEREMONY
Watch the 2020 Commencement Ceremony, available as a six-part video series.
Celebrity Shout Outs
Eight celebrities offer their words of wisdom and congratulations to the Class of 2020.