Training Opportunities
APCO Training Opportunities Co-Hosted by the Harper College Police Department
About APCO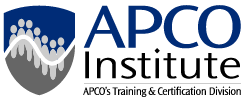 APCO International is the world's oldest and largest organization of public safety communications professionals and supports the largest U.S. membership base of any public safety association. It serves the needs of public safety communications practitioners worldwide - and the welfare of the general public as a whole – by providing complete expertise, professional development, technical assistance, advocacy and outreach.
Registration information:


IPMBA Training Opportunities Hosted by the Harper College Police Department
About IPMBA
The International Police Mountain Bike Association (IPMBA) is a non-profit association dedicated to promoting the use of bikes for public safety, providing resources and networking opportunities, and offering the best, most complete training for public safety cyclists.
Registration Information: CLICK HERE TO REGISTER
March 26th - 29th, 2019 Security Cyclist Course

Protect your beat! This course is designed for non-law enforcement security personnel who patrol a wide array of facilities. It produces confident, competent, and effective personnel who operate in a safe manner and reduce departmental liability. Learn how to ride like a pro, avoid crashes, and safely and effective patrol all corners of your beat. Course includes night operations, scenarios, basic maintenance, and on-the road repairs. Off-road riding and bike-specific live-fire exercises may be added at the instructor's discretion.

Curriculum Overview: Security Cyclist Course Curriculum Overview

Prerequisites: Non-law enforcement patrol officer (security, code enforcement, Explorer, etc.); basic bicycle-handling skills; good physical condition

Required Equipment: Security Cyclist Course Equipment List

Testing Procedure: Written and practical

Certification: IPMBA Security Cyclist Certification is available to qualified patrol personnel who successfully complete the practical test, earn a score of 76% or better on the written test, become members of IPMBA, and submit applications for certification accompanied by the appropriate fee.