Marketing and Sales Management
Marketing & Sales Management Apprenticeship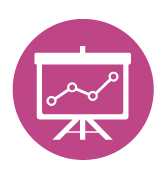 Marketing and sales occupations are used in nearly every industry. Companies look to employ sales managers who possess the necessary skills to succeed and help the business grow and be successful. Marketing and sales positions are diverse, from insurance, automobiles, machines, to those in an online industry. Harper's Marketing & Sales Management Apprenticeship program provides students with the necessary skill set to succeed in the field of sales in any industry.
The Marketing & Sales Management Apprenticeship is a two-year program. Students attend school in 12-week blocks each semester including the summer. They are in class on Tuesdays and Thursdays and work at the employer on Mondays, Wednesdays and Fridays. Students are assigned a dedicated mentor on the job.
Participants who complete the Marketing & Sales Management Apprenticeship earn an A.A.S. degree in Business Administration with a concentration in sales. In addition, the apprentices earn a certification from the Department of Labor indicating they are fully qualified for their occupation.
Job Functions
A marketing/sales associate or manager is responsible for sales activities and duties, from greeting customers, answering questions, offering assistance, suggesting items, and providing product information. A professional in the field of sales uses strong verbal and persuasive skills to successfully sell a product or service. A well-rounded product knowledge is needed by reading current vendor tags and pamphlets and attending training classes in order to communicate information to the customer. Marketing and sales positions can involve a broad spectrum of duties and activities depending on the product, service and merchandise offered by the company. The apprentice might begin their career in customer service or setting appointments for lead sales representatives before progressing to their own book of business.
Salary Outlook
Please note: The following are NOT a guarantee of salary, just an estimated outlook in this industry.
Job Titles in Marketing and Sales
Customer Service Representative

Account Manager

Sales Representative

Store Manager

Product Manager

Digital Marketing Strategist
Documents (PDFs)
Next steps
Take the placement test by visiting your Student Portal and click "Testing".
Interview with companies interested in hiring an apprentice.