Our ESL Students




ESL alumni recommend Harper College
Wahied's story
In Egypt I worked as a curator at the Egyptian Museum in Cairo and as an English language tour guide. The 2011 revolution in Egypt forced me to bring my family to the US. After arriving it became clear that my English (which had always been considered excellent in Egypt) was not very good by U.S. standards.
ESL courses at Harper College were crucial in helping me make the transition to life in the United States. Not only did they help me to improve my reading comprehension (and speed), grammar, and professional writing, but they helped me to understand some of the slang and colloquialisms unique to the Midwest. The instructors were all incredibly caring and warm. My English is much stronger today.
Since moving to Chicago, I have gotten a Master's Certificate in Artifact Collections Care from the University of Chicago. I am the Museum Marketing Assistant at the Oriental Institute Museum, and am a City Concierge for Choose Chicago.
Wahied Helmy
Museum Marketing Assistant, Oriental Institute Museum, Chicago
Veronica's story
Seven Years ago when I came to Harper College, my goal was to learn English. There were a lot of expectations of how somebody who did not speak English at all was going to learn a new language. I was able to do it by working hard; having discipline and staying positive.
Today, I work as a Human Resource Specialist after obtaining a MBA. Going to Harper College was the best choice I have ever made.
Veronica Naranjo
HR Associate, Dallas, TX
Yessie's story
I came to United States in fall 2006, and I started at Harper College as an ESL Students. I was very fortunate to be given an opportunity to work at ESL and International Students Office, and to know many wonderful advisors, teachers, and mentors. Harper was not just a school, it was my second home. I found my best friends and my ambition at Harper.
In spring 2010, I graduated with an Associate of Arts in Accounting. A month after graduation, I was hired by a manufacturing company in Schaumburg, IL. I continued my education at DePaul University, working as a Math Tutor and Data Entry assistant. In spring 2013, I graduated with a Bachelors of Arts in Applied Mathematics. Now, I am working with a data logistics company, StrategIQ Commerce.
Harper College has given me more than an education. It has given me the very first thing that I needed, confidence and hope, to keep moving forward.
Yessie Susanto
Team Lead Data Logistics, Chicago
Yoshiko's story -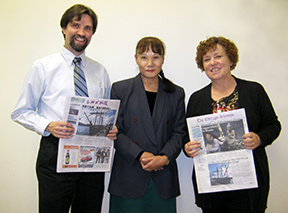 Harper College gave me everything. We study English in Japan, but it is not practical at all. Harper College ESL was very helpful for me. English is such a high wall to overcome, but now I am not afraid to speak English. Harper College ESL is the best place to meet people from around the world, too.
Yoshiko Urayama
President of the Chicago Shimpo Newspaper
Adriana's story
The thing I liked most was the environment. The faculty are always willing to assist you and give you extra time. You will have that extra help. I completed ESL at Harper and then went on to get my MBA.
Adriana Cisneros
Case Worker, Department of Human Services, Illinois
Lourdes' story -
Lourdes M. Adan earned Manufacturing Basic and Welding Maintenance Certificates in December 2009. She was unemployed when she came here to learn new skills. She also studied English as a Second Language to improve her English. After completing her certificates, she found a job as a supervisor in an electronics company, and was recently promoted to production manager where her knowledge of welding was important.
For the last 3 and half years, Lourdes has also been using her welding skills to teach Welding for Artists in Continuing Education here at Harper. She took this job when her welding instructor noticed her exceptional skills and offered the job to her.
Lourdes Adan
Production Manager