Learn English (ESL)
Find your home at Harper College.
You are an important part of the Harper College community. Join us and learn English with people of all ages from all over the world. Are you a beginner English learner? Click here to learn about free classes just for you.
Summer and Fall classes available with in-person and online options.
Our next classes start January 17th
Click here to learn more about ESL online courses.
With online ESL, you get
Flexibility in your studies (most classes have no set schedule)
Highly trained faculty working with you
Free faculty tutors
Online ESL Resources for home learning
Conversation partners with native speakers
To study anywhere in the world with Harper ESL
Harper ESL offers

Information for New ESL Students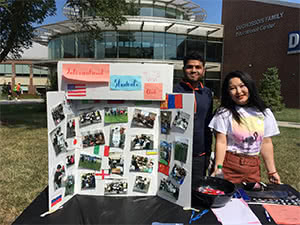 If you will be a new Harper student, please complete the online application and schedule a testing appointment to get started.
For students with less than nine years of education in your native country or no knowledge of English, learn about classes just for you.
Learn what financial aid and scholarships available.

For students planning to study with an international student visa, please visit the International Student Office.
If you are interested in studying to become an ESL teacher, please visit the Linguistic Department web page.
Read about our students and alumni.
Please consider making a donation to support the ESL program.
Need a laptop for class? Borrow one today! Harper College has Chromebooks available to be borrowed by students enrolled in the Fall semester. To borrow a laptop, fill out the Technology Request Form.
Contact Us