Renee Spacapan
DNP, APN, FNP-C - Nephrology Associates of Northern Illinois
Renee Spacapan has walked Harper College's halls at two very different points in her life.
In 1983, Spacapan studied banking and received her associate degree en route to working as a loan officer and starting a family. In 2004, she returned a mother of five daughters and determined to become a nurse.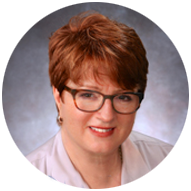 "I think in some ways I was born to be a nurse," Spacapan says. "I want to help people and be the best nurse I can, and for me that has meant educating myself. I always want to do more."
The Arlington Heights resident has done just that.
After graduating from Harper in 2006 with an Associate of Applied Science degree, Spacapan earned her Bachelor of Science in Nursing from Northern Illinois University and a Master of Science in Nursing from Saint Xavier University. In May, she completed her Doctor of Nursing Practice from the University of Wisconsin–Milwaukee.
Today, Spacapan serves as a nurse practitioner at Nephrology Associates of Northern Illinois in Elk Grove Village. She manages end-stage renal disease patients on dialysis and is responsible for their care.
During her doctoral program residency, she helped develop an evidence-based practice change to assist nurses in the hemodialysis outpatient clinic that is predicted to decrease the number of trips to the emergency department and reduce the antibiotic use, leading to improved care and significant financial savings.
Spacapan was also awarded a grant and fellowship in palliative medicine from the Coleman Foundation in Chicago. The two-year training program for 30 nurses and physicians involved continuing education workshops, online learning, one-on-one mentoring and direct observation of a mentor's practice.
Spacapan never considers herself off-duty. She regularly offers to make the rounds throughout her neighborhood, visiting the homes of elderly people to monitor blood pressure, give injections and perform dressing changes. She also volunteers at Off the Street Club, Chicago's oldest boys and girls club.
After working as a preceptor for new employees and senior nursing students on her hospital's telemetry unit, she can confidently say that Harper's students are the best prepared. She's experienced the rigorous curriculum and benefited from the College's passionate faculty.
"I knew I was making the right decision coming to Harper when I saw how highly regarded the program and students are by area hospitals," Spacapan said. "Harper fosters in me a love of learning."
Thank you for your interest in Virtual Mentoring. The registration period for spring 2020 is now closed.