Small Works: Juried Exhibition
Small Works
44th Annual Harper College National Juried Exhibition
The College's annual Small Works national juried exhibition highlights work selected from entries by artists from across the country. The show features a wide array of media, ranging from photography and prints to painting and sculpture.
Call for Artists and 2022 Exhibition Calendar
6/27:

 Entry deadline

7/22:

Jury notification posted on website

8/23:

Deadline for artwork to be received

9/6 - 9/29:  

Exhibition at Harper College
ELIGIBILITY AND MEDIA
All artists age 18 and over living in the United States are eligible.
In its largest dimension, artwork must be 24 inches or less, including frame if applicable.
All media are eligible, excluding jewelry and film/video.
Weight limitation: 45 pounds
Work that requires special installation or instructions will NOT be accepted.
Only work created within the last three years is eligible.
ENTRY AND ONLINE PROCESS
All Small Works entries will be judged from digital files. Before entering, prepare the following:
1. Required Artwork Information for each entry:
Title
Medium
Sale Price or NFS
Insurance Value
Actual and Framed Art Sizes in inches (height" x width" x depth")
2. Required Digital Image File
One (1) image file per entry, up to three (3) entries per artist.
File Format: .jpg only, maximum 2 MB file size
File Name: Artist's last name_First initial_number of image
(Note: Do not place your name into the digital image.)
Example: Smith_M_1.jpg
ENTRY FEE
One $30 nonrefundable fee entitles each artist to submit up to three entries.
NOTIFICATION
Accepted entries will be posted on this web page by July 22, 2022. Individual notification will NOT be sent. Please check this webpage for the jury results.
ACCEPTED WORK
Presentation: All works must be delivered to Harper ready for hanging/ installation/display. For framed work, use Plexiglas only. Original work not accurately represented by the digital file may be declined at the discretion of the Juror. All work will be insured during the exhibition for the artist's stated valuation.
Shipping: Work must be shipped in sturdy, reusable cardboard containers to arrive at Harper College no later than August 23, 2022. In-person deliveries for local artists may be arranged during August, pending campus safety protocols. DO NOT use loose Styrofoam "peanut" packing. Works should not require special handling or instructions.
RETURN OF ACCEPTED WORK
Works will be returned in original containers via UPS as soon as possible after the close of the exhibition. The Exhibition will pay for return shipping, insuring containers per stated valuations.
CATALOG, SALES AND REPRODUCTION
In conjunction with the Small Works exhibition, a color catalog will be produced. Each participating artist will receive catalogs by mail after the exhibition closes. Harper College will not retain commission on sales. Consent to reproduction for publicity purposes for this or future Harper national exhibitions is considered granted.
ENTRIES FOR 2022 ARE NOW CLOSED 
If you would like to receive information about next year's Small Works, please email us at:
smallworks@harpercollege.edu
Justin Witte
Director and Curator, Cleve Carney Museum of Art, Glen Ellyn, IL
Justin Witte is the director and curator of the Cleve Carney Museum of Art. Witte has been working in museums and galleries for over 20 years and has worked on numerous projects with artists of all levels. Most recently Witte curated the exhibition Frida Kahlo: Timeless, a comprehensive exhibition exploring the work and biography of Frida Kahlo. Trained as fine artist Witte received his MFA from the University of Illinois at Chicago and his BFA from the Milwaukee Institute of Art & Design.
Thanks to all the artists who entered the 2022 Small Works: Harper College National Juried Exhibition. The following artists have been selected by our juror:
Bobby Abate
Amy Applegate
Krystal Boney
Griffin Carrick
Bryan Chadwick
Celeste Croteaux
Shane Daly
Donna Fenstermaker
Jee Hwang
Blinn Jacobs
Benjamin Long
Kirk Maynard
Mark Mcleod
Michael Murray
Robert Osborne
Jason Reblando
Jennifer Seo
Kathie Shaw
Jessica Simorte
Patricia Wasserboehr
Steve Wilson
Kelly K. Wright
View the 2022 Small Works Exhibition here
2022 Small Works Purchase Awards: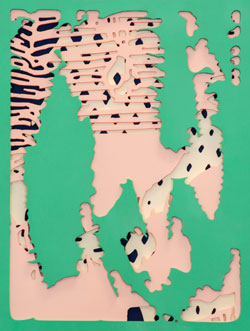 Mark Mcleod, Murfreesboro, TN
Olan Mills, 2019
MDF, paint, 16.25" x 12.25" x 1"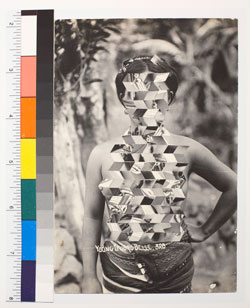 Jason Reblando, Normal, IL
Ifugao Belle, 2022
photocollage, 18" x 15"