Joseph McEnery

2020 Distinguished Alumni Awards

September 1, 2020

September 1, 2020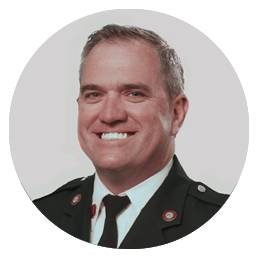 2020 Distinguished Alumni Awards Honoree
Joseph McEnery
Lieutenant, Elk Grove Fire Department


Joseph McEnery is living out his childhood dream to become a firefighter.
McEnery is a lieutenant and paramedic on the Elk Grove Fire Rescue Department, where he has more than 20 years' experience. He ensures crews are trained, mentored and equipped to handle both structural and medical emergencies in a moment's notice.
His path to a decorated career in the fire service was not a direct one, however.
McEnery, of Crystal Lake, first chose Harper College after high school because he wasn't quite sure what he wanted to do. Coaching the swim club was enjoyable, so McEnery decided to give teaching a try at the suggestion of his mother.
After he completed his associate degree at Harper, McEnery attended Illinois State University's middle school education program. He taught for four years and enrolled in graduate school when he realized: He didn't really want to continue. He was lamenting to a friend, who pointed out that the Elk Grove Village Fire Department was holding a test for new firefighters.
McEnery had tested back in college, but there were no openings at the time. His second attempt was a success and Elk Grove offered him a job the following summer. After passing the Elgin Fire Academy, the department sent him back to Harper for EMT training, which he then followed by enrolling in the paramedic program.
He has earned certifications and recognitions including Juvenile Fire Setter Intervention Specialist, Dive Rescue Sonar Technician, Fire Investigator, Department Honor Guard, and Paramedic Field Internship Preceptor. McEnery also teaches CPR and First Aid courses as well as a "Dads Only" parenting course at Alexian Brothers Medical Center. He has coordinated community blood drives and volunteers for the Elk Grove Rotary Fest.
After studying at a variety of schools, in a variety of programs, McEnery calls Harper's programming the most rigorous.
"Honestly, the classes at Harper were harder," he said. "I felt very prepared."
He sometimes reflects on his childhood dream, which started with a small grease fire when McEnery was in kindergarten. He still remembers the black smoke pouring out of the kitchen and a crew of firefighters responding.
"The lieutenant who was there said, 'Hey, kid, it's gonna be all right. Don't worry about it.' He was right," McEnery said. "I want to be that guy who makes things better for people, and that's what I'm trying to do."
Shout Outs to Joseph McEnery
---
Submit a Shout Out