Ann Portmann, BSN, RN, CHPN, WCC
Ann Portmann, BSN, RN, CHPN, WCC

2020 Distinguished Alumni Awards

September 1, 2020

September 1, 2020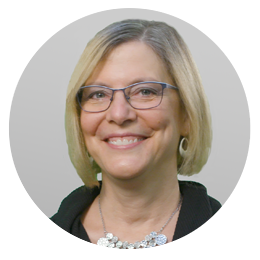 2020 Distinguished Alumni Awards Honoree
Ann Portmann, BSN, RN, CHPN, WCC
Care Center Team Manager, JourneyCare Barrington


After 20 years as a successful financial planner and accountant, Ann Portmann decided to pursue a new and somewhat unexpected calling: becoming a hospice nurse.
Portmann never doubted that Harper College would be the best choice for her next chapter. Though she knew Harper had a great reputation, her experience at the college exceeded her expectations.
"The instructors were tough but always encouraging us to be our best," said Portmann, of Palatine. "One thing they focused on was being a good critical thinker."
The many lessons learned in Harper's nursing program have served her well. Today, she's the in-patient care center team manager at JourneyCare's Barrington facility, which helps to provide compassionate care for patients and support for families as they face end-of-life decisions and treatment.
"From the very beginning of (Harper's) program, they got you to look at everything in great detail so you can get to the root cause of what the problem might be," Portmann said. "I walk into patients' homes, and it takes me back to Harper's simulation lab."
Portmann, who after graduating from Harper earned her hospice and palliative nurse and wound care certifications, is grateful for the many instructors who had an impact on her. She also appreciates how respectful they were of her desire to become a hospice nurse and the non-traditional path she took to get there.
Portmann's drive to give back to the nursing community is evident through the multitude of ways she connects with future nurses. She helps educate the profession's next generation by participating in ongoing educational seminars and sitting on alumni panels. She also assumed the role of preceptor for Harper nursing students in their capstone course.
In addition, Portmann works with fourth-semester Harper nursing students by introducing them to the roles and responsibilities of hospice care.
"I love being able to share with them how they can use the knowledge I'm giving them on their patients down the road to make end-of-life nursing a little less scary," she said.
Associate Professor Jennifer Smith nominated Portmann for the Distinguished Alumni award on behalf of the nursing program faculty, saying, "I can't think of another alumna more deserving of this honor than Ann Portmann."
Shout Outs to Ann Portmann, BSN, RN, CHPN, WCC
---
Submit a Shout Out