Diverse Faculty Fellow Program
Diverse Faculty Fellow Program
These positions typically post in late November for employment the following August.
The Diverse Faculty Fellow Program at Harper is a paid fellowship which provides a unique opportunity for individuals to gain valuable teaching experience at a community college. Applicants must earn their Master's or Doctorate degrees to be considered for the program. The fellowship program was designed specifically to assist the College and community college academia in general, by providing experiential opportunities for potential future faculty members. The Diverse Faculty Fellow Program is an important part of the College's focus on diversity and inclusion, which seeks to better reflect the increasing diversity of its student body and surrounding community.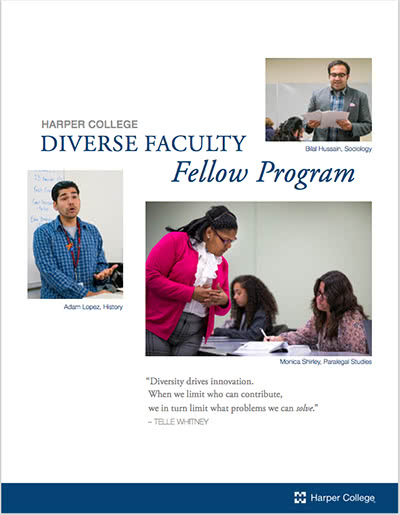 Click Here to view the Diverse Faculty Fellow Program Digital Zmag
The program offers those that are accepted an annual stipend, full benefits, and a professional development allotment of $1150. The Fellows will also receive mentoring and coaching and be given the chance to teach several classes over the course of the fellowship. Here is an exciting opportunity to gain both valuable teaching experience and exposure to the community college as a viable career path.
Harper College is seeking interested and motivated individuals who demonstrate promise in terms of becoming an excellent community college faculty member. Special consideration will be given to applicants who have been historically underrepresented in faculty positions in higher education.
Requirements include:
To see which departments have Diverse Faculty Fellows opportunities, visit Jobs at Harper.

For more specific information about the program prior to applying please contact:
Dr. Tamara Johnson
Vice President of Diversity, Equity and Inclusion
847.925.6767 or via email at: harperdei@harpercollege.edu
Harper College is an Equal Opportunity Employer. Women, ethnic minorities and persons with disabilities are encouraged to apply.


FAQ