Vicki Atkinson
Dean, Student Development - Harper College
As Dean of Student Development at Harper College, Vicki Atkinson develops and designs programming – including customized orientation and advising for at-risk and special populations – and empowers her staff to create an inclusive, impactful environment for students.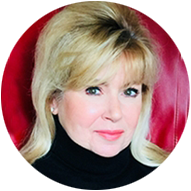 "I'm helping others to do better, feel safer, stay intact," Atkinson said. Her work is an extension of the warm welcome she first encountered as a student at Harper in the early 1980s.
"I came here as a bit of a disgruntled, defiant student," Atkinson admits. Her family had moved 10 times in 12 years while growing up, and she wasn't expecting to find a home at Harper. "As someone who had moved so much, I was kind of blown away by how supportive and familiar this place was."
Drawn to Harper's positivity, Atkinson got involved as a student orientation leader and with the first LGBT club on campus. She graduated with an Associate of Arts degree in 1982 and has been employed by the school since 1986 in various roles, including manager of the assessment and testing center, associate professor, and student development counselor, in which she initiated Harper's first peer mentoring program to support LGBTQ students.
"I have always gravitated to people who are at risk or marginalized in some way," said Atkinson, who herself has lost friends to gender identity issues. "I think there's so much we need to do – socially, politically – from an equity and rights point of view."
Her philanthropic work with the Clearbrook Association for Disabled Persons, Special Olympics, HOPE Giving Circle and Annual Harper College Giving Campaign reflects that commitment to community and the underserved.
Atkinson lives in Long Grove and holds a bachelor's degree in psychology, master's degree in counseling from Roosevelt University and a doctorate degree in education from Northern Illinois University. "I had mentors and really strong advocates who said, 'You can't stop, you need to get a terminal degree and make change to help more people,'" she said.


More about Vicki Atkinson
Thank you for your interest in Virtual Mentoring. The registration period for spring 2020 is now closed.