Susan Grant
Nurse, Assistant Professor, Health Science Core - Harper College
Dr. Susan Grant enrolled in the Nursing Program at Harper College as the mother of two young children. She chose Harper because the admissions staff made an effort to accommodate her schedule and outside responsibilities. "From the first class at Harper, I felt at home and comfortable, and there was a palpable culture of inclusion and student-oriented actions by staff and faculty. This experience has made all the difference in how I experienced education at Harper and beyond," says Dr. Grant.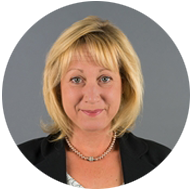 Dr. Grant received her nursing degree from Harper in 1993. She went on to earn a bachelor's degree in health science from the University of St. Francis, a master's in health administration from the University of St. Francis, and a doctorate in education from Argosy University.
Today, Dr. Grant is a full time faculty member in the Health Careers Division at Harper College, where she serves as coordinator for the Health Science Core program. She previously served as the phlebotomy program coordinator and also helped to develop the Community Health Worker curriculum at the College. Prior to bringing her talents back to Harper, she proudly served as First Lieutenant in the Army Medical Services. Other prior roles include Director of Nursing for Provena Health, Administrative Director of Women and Children's Services at Alexian Brothers Medical Center, Executive Director in Transfusion Medicine, Reproductive Medicine Clinician and Community Health Educator. Dr. Grant also completed a coveted Fellowship in Health Care Executive Leadership at the Health Care Advisory Board in Washington, DC in 2007.
Dr. Grant is a strong advocate for military and veterans services in the community. At Harper, part of her role has centered around helping students who are in the armed forces. She has served as the faculty advisor for the Student Veteran's Club and was instrumental in securing funding for the development of the new Veteran Center on campus. In 2017, she was asked to join the faculty panel of the American Council on Education's program for Military Credit for Prior Learning.
Without the strong foundation and confidence built at Harper, Dr. Grant believes she may never have gone on to further her education. She credits Harper faculty members, such as Joni Rothblum, Dr. Peg Burbach and Julie D'Agostino, for instilling a confidence in her that she is grateful for to this day.
"I feel that my academic and professional career has come full circle. I was first helped to believe in myself at Harper, and today as a faculty member, I work each day with a mission to inspire the next generation of students to achieve their potential and develop a love of life-long learning," she says.


More about Susan Grant
Thank you for your interest in Virtual Mentoring. The registration period for spring 2020 is now closed.