Shannon Plate
Licensed Clinical Professional Counselor
Shannon Plate is a licensed clinical professional counselor (LCPC) with a private practice in Palatine. She is a published author and speaker, adjunct faculty at Trinity International University and a small business owner.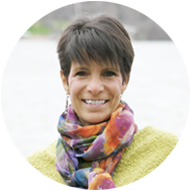 She has her undergraduate degrees from Harper College and Roosevelt University, and her Master's degree in Counseling Psychology from Trinity Evangelical Divinity School, where she currently teaches in the Counseling department.
​In 2015 she published Listen Up: Untangling Great Communication. In her firm belief that Empathy answers many of the hard questions about how to do communication better, the Listen Up resources were developed.

Overview
LCPC — Licensed Clinical Professional Counselor, with a private practice in Palatine
Author and Speaker
Adjunct Faculty at Trinity International University
Small Business Owner (medical parts assembly, scarf design and production)
More about Shannon Plate
Connection Preference
Sign up for this one-of-a-kind opportunity with the chance to be paired with top industry leaders and experts!

The registration period is now closed. Thank you for your interest in Alumni Virtual Mentoring!