Virtual Mentor Jordan Sadoff
Jordan Sadoff
President, RESTORE Hair
Jordan Sadoff has had a successful business career founding, growing, and operating businesses. Jordan has been a visionary and a high-level operator within his organizations.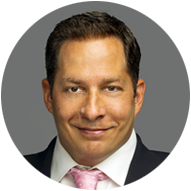 At the age of 19 while attending college at Northern Illinois University, Jordan and Jake Sadoff co-founded JJ Bean, Inc., a company that distributed plush children's toys. The Sadoffs opened their first office on campus, employing several of their fellow business students, and in its first year in business the company grossed over $1 million in sales and $250,000 in ebitda. Over the next 10 years, the company continued to grow YOY in both revenue and ebitda.
In 2008 at the age of 29, Jordan and Jake Sadoff then co-founded GOLDMAX, LLC. With Robin Leach as its spokesperson and Jordan and Jake as the Co-CEO, Goldmax became the largest retail-based buyer of consumer precious metals in the United States with over 225 retail locations, employing over 500 people, and generating as much as $300 million in revenue in its peak year.
In 2013, Jordan and Jake Sadoff co-founded RESTORE, which made front page national headlines as a result of Brian Urlacher's public reveal of his new head of hair thanks to his hair restoration procedure at RESTORE. Other notable public figures have also touted their procedures at RESTORE, including Deion Sanders, Ryne Sandberg, Matt Forte, and Eddie Olczyk, just to name a few. RESTORE is a leader in its industry, and has grown to become the largest and most highly publicized independent hair restoration offices in North America.
Jordan attended Harper College from 1996–97 and went on to earn a Bachelor of Business with an emphasis on marketing from Northern Illinois University. In addition to his passion and success for entrepreneurship, Jordan spends his time on multiple philanthropic efforts. He is particularly interested in giving back for educational needs. Jordan is on multiple charitable educational boards, including Glenwood Academy which provides education, housing, and loving support to underprivileged and at-risk youth. Jordan gives back financially to these causes, including the Jordan and Jake Sadoff scholarship fund. Jordan resides in Palatine, IL with his wife and two daughters.
Awards
2018 - E&Y Entrepreneur Of The Year Award, Midwest Finalist, 2018 Distinguished Alumni Award, Harper College
2017 - C-Suite Award Winner, Business Ledger/ Daily Herald, 2016 Executive Of The Year, Chicago Skyline Award, Public Relations Society of America
More about Jordan Sadoff
Connection Preference
Sign up for this one-of-a-kind opportunity with the chance to be paired with top industry leaders and experts!

The registration period is now closed. Thank you for your interest in Alumni Virtual Mentoring!