Virtual Mentor Tom Schnecke
Tom Schnecke
Vice President, Director of Operations and Engineering for CBS2 Chicago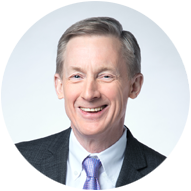 Tom spent over 20 years at NBC holding various positions in radio and television including traveling with the Chicago Bulls in the mid 80's as the producer engineer. His most noteworthy assignment was perhaps serving as one of NBC's main transmission engineers for the owned stations at the 2002 Winter Olympics in Salt Lake City.
He joined CBS2 in 2003. As Vice President: Director, Operations and Engineering, Schnecke is responsible for all technical aspects of the station including designing the new all HD facility. Along with managing the technical facility, Tom provides on-air operational direction along with daily production collaboration with technicians, producers and directors on local news and long-form production programs.
Tom has 17 Emmys for technical achievement and production and is a recipient of The Silver Circle Award from the National Academy of Television Arts and Sciences. The Silver Circle recognizes outstanding individuals who have devoted 25 years or more to the television industry and have made significant contributions to local television.
At Harper, Tom earned two degrees - an Associate of Applied Science and an Associate of Arts in Electronics Engineering Technology. After graduating from Harper, Schnecke earned a bachelor's degree from Columbia College and Masters in Radio/TV/Film from Northwestern University.
Tom's first on-air shift on WHCM was in the Fall of 1976 just in time to spin actual records from Chicago, Fleetwood Mac and Elton John. In 1981 he was asked to help out "for a while" as WHCM's advisor. He went on to serve for the next 17 years until the summer of 1998 all in addition to a full-time job downtown. Tom was instrumental in helping lay the groundwork for WHCM's FCC license application which, in time would eventually propel the station on to the FM dial. After thousands of broadcasts over the years, Tom says nothing gives him a greater thrill than punching up 88.3 on the radio and hearing a WHCM DJ.