Google 2-Step Verification
Google 2-Step Verification
Beginning August 1, 2023, all Harper College Google users will need to activate Google's 2-Step Verification.
What is it?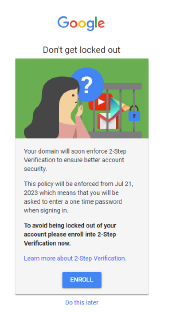 Google's 2-Step Verification is a tool to protect your account from hackers and it creates an additional layer of security to help keep your personal information private, safe and secure. With Google's 2-Step Verification, when you log in you will need your password and a quick sign-in code to verify that it is you.
How to set it up:
Upon logging in you will see this screen to the right. Click on the "enroll" button.
Enter your phone number. Make sure this is a number where you can receive Google sign-in codes at any time of day.
Choose how you want to receive Google sign-in codes (text or phone call).
Hit next.
You should now receive a Google sign-in code either by text or phone call. Enter the code on the "Confirm it Works" screen and hit next.
At the end of the setup, you will see a screen confirming your 2-Step Verification was successful.
Click turn on to complete the setup.
You will be directed to your account
What to Expect After Setting Up 2-Step Verification:
When you log in, you will enter your password as usual. Then, Google will send you a sign-in code using the phone number and delivery method you selected. You will enter that code and hit next to complete your sign in.
Frequently Asked Questions:
What if I do not set up Google 2-Step Verification?
The deadline to set up Google's 2-Step Verification is Monday, September 18, 2023. Individuals who do not set up 2-Step Verification by this date will need to contact the Service Desk for help accessing your Google Workspace. We recommend completing the 2-Step Verification process before the deadline to ensure you have continuous access to your Google Workspace.
How do I get help if I have trouble logging in?
Contact the Student Service Desk at 847.925.6866