Robert C. Bachus
Ph.D., P.E., D.GE,
Senior Principal Engineer, Geosyntec Consultants
Robert Bachus graduated from Harper College in 1971 After attending the University of Illinois at Chicago (UIC) and earning both a BS and MS degree, he continued his studies at Stanford University, where he earned a Ph.D. in geotechnical engineering. From Stanford, Dr. Bachus relocated to Atlanta, GA and began teaching at Georgia Institute of Technology (Georgia Tech), where he conducted funded research and published extensively in the field of geotechnical engineering. At Georgia Tech, he immersed himself in the then-emerging fields of geosynthetics and geoenvironmental engineering, developing classes and conducting research in these areas.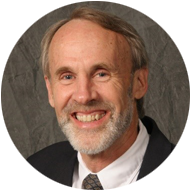 In 1990, Dr. Bachus left Georgia Tech to join Geosyntec Consultants, where he currently serves as a Senior Principal Engineer. Dr. Bachus has helped lead and grow the firm from a 100-person firm to an organization that has approximately 1,300 employees in its 85 U.S. offices and 6 international offices. Today, Geosyntec Consultants remains an employee-owned consulting firm and is recognized as an industry leader in the solid waste and geotechnical engineering fields, focusing on engineering of dams and levees, risk assessment, and landslide stabilization, as well as innovative techniques for landfill leachate treatment, sustainable landfill designs, and data management and visualization.
Dr. Bachus remains active in publishing and research, and he regularly speaks at conferences and to student chapters of American Society of Civil Engineers (ASCE) across the country. He is currently the Cross-USA Lecturer for the Geo-Institute (G-I) of ASCE. He also teaches landfill design courses for Georgia Tech and the Center for Training, Research and Education for Environmental Occupations (TREEO) at the University of Florida and geotechnical engineering classes on behalf of the U.S. Army Corps of Engineers (USACE).
During his time at Harper, Dr. Bachus represented the College in three sports. He was a member of the cross-country team, the track and field team and the basketball team and was the first Harper student-athlete to earn a varsity letter in the three sports in both years that he attended Harper. He was voted "Harper Athlete of the year" in May 1971.
Of his experience at Harper, Dr. Bachus, says, "Bottom line, had I to do it over again, I would not change a thing. Harper College was very good to me and for me. The experiences at Harper prepared me well for my eventual career.