Virtual Mentor Rodney Craig
Rodney Craig
Village President, Village of Hanover Park
Rod, in his fourth term as Mayor for the Village of Hanover Park, is an advocate for public safety and community development. First elected in 2007 as Village President, Rod has worked to streamline municipal operations, increase transparency, and become a respected Village with exceptional operations. Rod has always worked on the cooperation between the village government, Schools,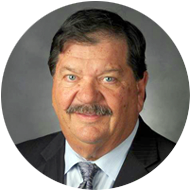 Park District, and other organizations within our Village. Over the last eight years, Hanover Park has seen a reduction in crime, built a new police headquarters, instituted Community Policing, home inspections focused on quality of life and Crime Free Housing. Rod's philosophy has been to bring people together to address problems and modernize the Village's technology capabilities and systems to become more efficient and responsive to serve the residents of Hanover Park.
Rod began sponsoring a "Kids At Hope" Resource Day, which began as a collaborative initiative at Anne Fox Elementary School and has evolved into the larger Park District facility including all our Schools and the Townships. Also serving with School District 54 Foundation and as regular visitor in classrooms reading, answering questions, and modeling a leadership style that encourages youth assisting our goal to build a safe community responsibly and respectfully.
He and his family have resided in Hanover Park since 1974 following Rod's six-year tour of duty in the United Stated Navy. Upon leaving the Navy, Rod worked on Systems Operations with the Federal Aviation Administration in the Air Traffic Control environment. He retired with 39 years of public service in 2009. As mayor, Rod has utilized his knowledge of infrastructure and systems relating to public transportation to benefit his community by providing access to jobs in cooperation with our Community Colleges for Hanover Park and region.
In addition to volunteering in community and church groups, President Craig first entered public service when he was appointed as a Trustee of the Hanover Park Fire Protection District in 1995. In 1999, he became the Fire Protection District President. In June of 2000, he provided leadership in the transition from a Fire District to a municipal Fire Department. In 2000, he was recognized as Citizen of the Year, appointed Village Trustee in 2001 until his election at Village President in 2007. He was subsequently reelected in 2009, 2013 and 2017.
As Village President, Rod represents the Region on the Commuter Rail Board METRA. As Past President of DuPage Mayor & Managers Conference, he currently Chairs the Inter-Governmental Committee with DuPage County. He is also active with the Northwest Municipal Conference Executive Committee and the co-Chair of the Transportation Committee, serves on the Metropolitan Mayor's Caucus and is Co-Chair of the Diversity Committee and member of the Regional Economic Development Committee. Additionally, he is a Board Member with the Golden Corridor YMCA Board of Directors and serves on the State YMCA Advocacy team for Federal and State Legislation. He also serves on the Illinois Municipal League as Vice-President and has facilitated numerous learning opportunities at their annual conference.

More about Rodney Craig
Thank you for your interest in Virtual Mentoring. The registration period for spring 2020 is now closed.