Sound Opinions co-hosts to lead rock and roll boot camp
Sound Opinions co-hosts to lead rock and roll boot camp
January 21, 2015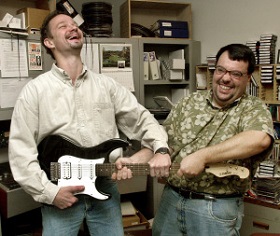 Greg Kot and Jim DeRogatis know a thing or two about what it takes to make it in the music industry.
For years, the widely respected rock critics have brought together music lovers from across the globe as co-hosts of WBEZ Chicago's Sound Opinions, a weekly radio show distributed nationwide by PRX. And for many, the pair's "Buy It, Try It or Trash It" scale serves as the gospel of music review ratings.
Next month, Kot and DeRogatis will lead a cutting edge, half-day boot camp at Harper College aimed at showing musicians how to take their band from the basement to the stage.
"Everything You Need to Know About the Music Industry in 2015" will take place from 1 to 4:30 p.m. Saturday, Feb. 28, on the College's main campus, 1200 W. Algonquin Road in Palatine.
The critics will provide an insider's guide to practical, business-related topics for those interested in pursuing a career in the music industry. They'll cover marketing, how to "wrangle the web," legal issues, trends, common mistakes (musicians really do need to think like a business, no matter how modest) and more.
"This workshop will benefit anyone interested in the music industry, from professionals to novices, and from music faculty to promoters," said Michael Nejman, president of the talent agency that represents Kot and DeRogatis and one of Harper's Distinguished Alumni.
Kot and DeRogatis say they're out to help musicians navigate the swirl of new possibilities and traps that can overwhelm musicians, especially as communications technology is on the cusp of a "seismic change."
Tuition for the boot camp is $89. To register, call 847.925.6300 or visit harpercollege.edu/ce. Learn more about Harper's Continuing Education courses at ceblog.harpercollege.edu.
Press contact: Kim Pohl, Media Relations Manager, 847.925.6159