Motorcycle Safety Training registration open
Motorcycle Safety Training registration open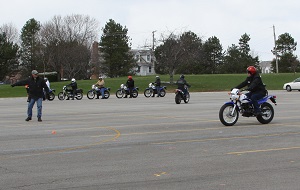 February 16, 2015
Despite the snow and chilly temps, it won't be too long before the convertible tops come down and motorcyclists are out in droves.
That means registration is now open for Harper College's popular – and free – Motorcycle Safety Training program. About 5,000 riders took part in more than 500 basic, intermediate and advanced courses held last year between March and October through Harper, which serves all 10 training sites in Cook County.
The state of Illinois program is available to newbie and veteran bikers alike with the aim of making the roads safer for everyone. Nationwide, more than 34,000 motorcyclists were killed and an estimated 1.2 million people treated for motorcycle-related injuries from 2001 to 2008, according to the Centers for Disease Control and Prevention.
"Everybody benefits from a program like this because it makes the roads safer," program Supervisor Scott Mochinski said. "Yet most people don't know about it."
Motorcycles and helmets are provided and two instructors lead classes capped at 12 students. Those 18 years and older who finish the course receive a completion card that waives the written and riding portions of the Secretary of State's motorcycle license exam. Younger riders still must complete the testing.
Stats show that newly licensed riders who've taken the safety training program have a lower accident rate than those who didn't. In addition to safety, Mochinski said students learn to respect all vehicles on the highway and develop an appreciation for motorcycle culture. He's seen people in their 80s enroll, just so they can enjoy the thrill of riding once in their life. Last year, nearly 40 men and women participated age 70 and older.
"It's like riding a motorcycle is on their bucket list, and they absolutely love it," he said. "Private courses cost hundreds of dollars, so this program is perfect whether you just want to ride once or you've got years of experience."
The course is free, but a $20 refundable deposit is required. Spring and summer classes fill up quickly. To register or learn more about the course levels, visit harpercollege.edu/motorcycle or call Harper College's Continuing Education Department at 847.925.6300.
Prospective students may also be interested in a new motorcycle helmet customization class offered through Harper's Continuing Education Department. Instructor Sara Altieri, an avid motorcyclist with a studio art and graphic design background, will show students how to use paint pens to execute their own unique design.
The helmet customization course runs 6:30 to 8:30 p.m. Mondays March 9 through April 6 at Harper's main campus, 1200 W. Algonquin Road in Palatine. Tuition is $99 and some drawing experience is recommended. To register, visit harpercollege.edu/ce or call 847.925.6300.