Trustees go to Washington to advocate for community colleges
Trustees go to Washington to advocate for community colleges
February 18, 2015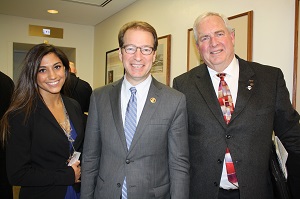 Harper College Board Trustee Bill Kelley and Student Trustee Marisa Andreuccetti recently made the trip to Washington, D.C., to attend the 2015 Community College National Legislative Summit.
They had the opportunity to advocate on behalf of community colleges with U.S. Representative Peter Roskam, U.S. Senator Richard Durbin, U.S. Representative Bob Dold, Waverly Gordon, Chief of Staff to U.S. Representative Jan Schakowsky and legislative staffers to U.S. Representative Tammy Duckworth.
Kelley, who's also serving as president of the Illinois Community College Trustees Association, was interviewed by Inside Higher Ed reporter Michael Stratford in the article "Obama community college proposal is a shift in conversation on Capitol Hill, college leaders say."
To see photos of Kelley and Andreuccetti meeting with lawmakers, visit Harper's Flickr page.
Press contact: Kim Pohl, Media Relations Manager, 847.925.6159