Ethics Bowl team makes history
Ethics Bowl team makes history
February 28, 2015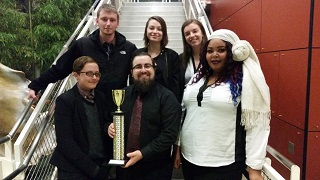 Harper College's Ethics Bowl team made history last weekend - twice.
Not only did the six-member team win the Two-Year College Championship for the second time since the competition's inception three years ago, it became the first team from a two-year institution ever to advance to the quarterfinals in the larger Intercollegiate Ethics Bowl Championship.
Harper's team traveled to Costa Mesa, Calif., for the competitions, which call for students to examine difficult ethical questions that arise in real-world news events. Topics ran the gamut from questioning the validity of journalists going undercover to growing criticism surrounding unpaid internships.
During the Intercollegiate Ethics Bowl Championship, where four-year colleges and universities made up an overwhelming majority, Harper tied for seventh place out of 148 teams. The team beat Providence College and University of Tampa – both by wide margins – before narrowly losing to Indiana University and getting eliminated in another tight match by the University of North Carolina-Charlotte.
"It was a wonderful feeling to note that a two-year college was no longer an underdog among a group of four-year schools," said Associate Professor John Garcia, who coaches Harper's team with Assistant Professor Brett Fulkerson-Smith. "It's hard to appreciate how difficult it is for two-year schools to succeed. We don't have the same students for four years who can meet in the dorms for hours on end."
This year's group is comprised of Lauren Bell of Mount Prospect, Ali Longbottom of Barrington, Robert Moskwa of Arlington Heights, Justin Provo of Hoffman Estates, Ahyanee Stubberfield of Palatine and Eri Svenson of Schaumburg.
Garcia and Fulkerson-Smith praised the students for exemplifying many of the best qualities Harper students have to offer and developing an instant chemistry with one another.
Press contact: Kim Pohl, Media Relations Manager, 847.925.6159