World-renowned guitarist Lily Afshar to perform
World-renowned guitarist Lily Afshar to perform
February 28, 2015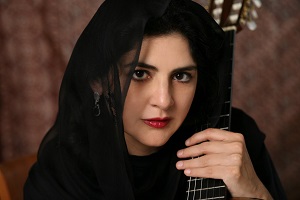 One of the world's leading classical guitarists will present an exciting and intimate program of music by Bach, Barrios and Rodrigo and arrangements of enchanting Persian ballads during an upcoming performance at Harper College.
The award-winning Lily Afshar, the first woman in the world to be awarded a Doctor of Music in guitar performance, will put on a concert at 7:30 p.m. Thursday, March 5, at the Black Box Theater, Building L, Room L109 on the College's main campus, 1200 W. Algonquin Road in Palatine.
Earlier in the day, Afshar will lead a select group of students in a master class.
"Her work is truly groundbreaking and genre-defying," said Steve Vazquez, Director of Guitar Ensembles at Harper.
Born in Iran, Afshar's Persian heritage has given rise to some of her greatest musical innovations. She has drawn from Persian and Azerbaijani folk music traditions to create arrangements of work for the classical guitar. She also has fascinated concert-goers with live performances of the sehtar, a traditional Persian instrument.
A true citizen of the world, Afshar has performed at venues across the globe. She has won a top prize in the Guitar Foundation of America Competition, Grand Prize in the Aspen Music Festival Competition, the Orville H. Gibson Award for Best Female Classical Guitarist and a National Endowment for the Arts Recording Award, among others.
For more information on the artist, visit lilyafshar.com.
Tickets to the concert are $10 to $15. Call the Harper College Box Office at 847.925.6100 or visit harpercollege.edu/boxoffice.
Press contact: Kim Pohl, Media Relations Manager, 847.925.6159