InZone summer camp registration open
InZone summer camp registration open
March 9, 2015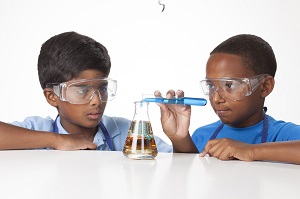 From cupcakes in the kitchen to concoctions in the chemistry lab, Harper College's InZone summer enrichment and sports camp has had all the right components to create memorable summers for children ages 8 to 14 for more than a decade.
This summer will be no different as familiar favorites return such as rocket launches, robot wars and film acting camp, while plenty of new offerings enter the mix. New this year are "Camp Ooey Gooey," in which students create their own polymers and colloids to get some surprising results; "Dance Like a Music Video Star," which teaches the choreography of iconic pop artists like Justin Timberlake; and "Avengers Assemble," where students create their own comic strip superhero and unearth all there is to know about Marvel Comics' mightiest heroes.
Registration is now open.
"Our classes are an opportunity for everyone," InZone Coordinator Kevin Hahn says. "It's a chance to develop new interests or strengthen your existing skills."
InZone runs five, two-week sessions June 8 through Aug. 14. The camp is open 7 a.m. to 6 p.m. weekdays, with morning and afternoon classes, lunch options and before/after care available. The program also boasts an 8-to-1 child/staff ratio and a safe environment with a professional nurse on site.
This year, InZone will again partner with the Chicago Cubs Baseball Camp to bring a one-week elite baseball camp to campus. Past classes will also be back, including those on Star Wars, fashion design, Harry Potter and LEGO Battlebots. Some InZone classes even offer campers a taste of reality show competitions such as Kitchen Clash, in which groups create different dishes with the winning creations compiled into a recipe book.
In addition to the variety, Hahn said InZone stands apart because of the quality of instruction students receive. Classes are run by professionals or experts in their fields, and there's a focused curriculum with a set of outcomes.
"These are fun, safe programs in the same facilities that college kids use," Hahn said.
InZone is working to accommodate campers from school districts that will let out late due to severe weather this winter. Students will still be able to take part in most opening session classes at a prorated price.
For information or to browse the full camp catalog, visit harpercollege.edu/ce, email Hahn at khahn@harpercollege.edu or call 847.925.6876. Remember that InZone programs don't end with summer; camps and classes are offered during Harper's fall and spring terms.
Press contact: Kim Pohl, Media Relations Manager, 847.925.6159