Small works exhibit boasts national reach
Small works exhibit boasts national reach
March 13, 2015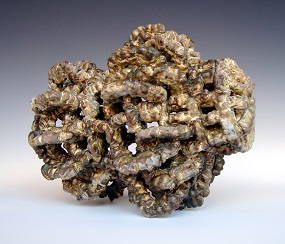 Small-scale artwork from artists across the nation is currently on display in Harper College's 38th annual National Juried Exhibition, a celebration of mini masterpieces.
More than 170 artists submitted a collective 550 small works pieces for consideration to this year's show, which runs through Thursday, April 2, in the College's Art Exhibition Space, Building C, Room C200 on the College's main campus, 1200 W. Algonquin Road in Palatine.
Serving as this year's juror was Allison Peters Quinn, Director of Exhibitions at the Hyde Park Art Center in Chicago, where she has curated exhibitions and produced symposiums, performances and publications since 2004.
"This exhibition highlights the work of artists who push contemporary art forward with unique approaches to material and concepts," she said. "Choosing 24 pieces from over 500 was not an easy task, but I focused on choosing a diverse range of work that would make a compelling exhibition for viewers."
Paintings, prints, photograph, drawings, glass and ceramics are among the media used. Associate Professor Jason Peot said the show is reflective of what's happening in the broader art world.
"It's a great show with a diverse mix of artists," Peot said. "There's really a national reach, so we get little bits of what's happening across the country."
The exhibit is free and open to the public between 8:30 a.m. and 4:30 p.m. weekdays. For more details on Harper's Art Department and exhibits, visit harpercollege.edu/arts.
Media contact:Kim Pohl, Media Relations Manager, 847.925.6159.