NASA selects Harper student for scholars program
NASA selects Harper student for scholars program
March 18, 2015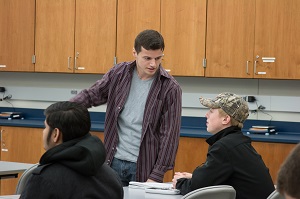 To Harper College student Hasan Fetahi, working for NASA one day would be the greatest achievement of his professional life – the pinnacle of a career devoted to science.
The Hanover Park native will get a peek into that world next month as one of the students selected to participate in the NASA Community College Aerospace Scholars project.
Fetahi, 21, is among the 240 community college students chosen from across the U.S. to take part in the five-week scholars program, which culminates with a three-day, onsite event at Johnson Space Center in Houston.
"I grew up thinking that NASA is the place where all the smartest scientists work," said Fetahi, a graduate of Hoffman Estates High School. "And the more I learn, the more I know there are opportunities for all sorts of fields such as engineering and geophysics."
Scholars will interact with NASA engineers and others as they learn more about careers in science and engineering. While at NASA, they form teams and establish fictional companies interested in Mars exploration. Each team is responsible for developing and testing a prototype rover, forming a company infrastructure, managing a budget and developing communications and outreach.
Fetahi's time at NASA will include a tour of facilities and briefings by NASA subject matter experts.
As part of the application process, Fetahi had to design a rover similar to Curiosity, the 1-ton robot currently performing planetary experiments on Mars. He said he used his physics and chemistry background to get creative and pull all his ideas together.
He credits Dr. Kelly Page, an associate professor in astronomy and physics, and Andy Kidwell, associate professor in chemistry, with inspiring him and exploring real-life applications of scientific concepts and principles.
Fetahi will graduate from Harper in May with an Associate in Engineering Science and then transfer to University of Illinois to study chemical engineering and physics. He's a product of Harper's Honors Program, a research assistant, president of the astronomy club and a member of both the Phi Theta Kappa international honor society and the Mu Alpha Theta mathematics honor society.
The NASA Community College Aerospace Scholars project is funded in part by the Minority University Research and Education Program, or MUREP, which is committed to the recruitment of underrepresented and underserved students in science, technology, engineering and mathematics (STEM) to sustain a diverse workforce.
For more information, visit ncas.aerospacescholars.org.
Media contact: Kim Pohl, Media Relations Manager, 847.925.6159