Fashion show to embrace fantasy, fairy tales
Fashion show to embrace fantasy, fairy tales
May 8, 2015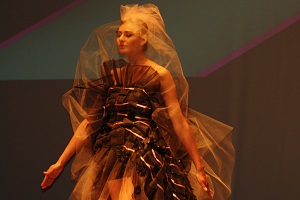 With the cultural popularity of fables, fairy tales and fantasy at its peak in recent years, Harper College's fashion department is embracing the idea for this year's spring fashion show.
"A Twisted Trip in Time: A Fashion Fable" will take place at 8 p.m. Friday, May 15, at the Performing Arts Center on the College's main campus, 1200 W. Algonquin Road in Palatine. A matinee show earlier in the day at 1 p.m. will also feature a competition between area high school fashion students.
The annual professional-caliber event showcases students' original work and designs. A group of industry professionals helped jury the garments. Other students will work the show – which incorporates working models – behind the scenes. Pre-show appetizers and a cash bar will start at 7 p.m.
Professor Tom Tucker, whose promotions class students are behind the event's production, said attendees can expect to see many ethereal and contemporary designs as well as some classics. The show will use images from popular fairy tales and fables to set the right tone.
"We're taking advantage of the popularity of fables and fairy tales that we see in pop culture, TV and movies and basing the show on that," Tucker said. "The design students have been tasked with bringing that concept into their designs, while the promotions class is using that same idea to develop the show. They've come up with some great ideas."
Tickets to the primetime event are $25. Admission is $20 for students with an ID and those under 18. The matinee is $10 for adults and $5 for children and students.
To purchase tickets, contact the Harper College Box Office at 847.925.6100 or harpercollege.edu/boxoffice. For more information on the Fashion Design and Merchandising programs, call 847.925.6374.
Press contact: Phil Burdick, Chief Communications Officer, 847.925.6183