Studio V holding series of trunk shows
Studio V holding series of trunk shows
July 15, 2015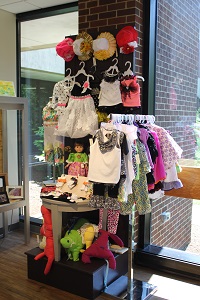 Studio V always features an eclectic array of jewelry, fashion, accessories, sculpture, art and other original pieces. Now, the professional, student-run boutique is offering an even closer look into the collections of some very talented student and community artists with a series of trunk shows.
One such event targeting a slightly younger demographic will highlight Amela Bego and Nicole Ramos, the artists behind one-of-a-kind kids' clothing, toys and stuffed animals. The free trunk show will also feature face painter Marilyn Jimenez and magician Mark Presley.
"This is a way for people to see a more complete collection and actually meet the artist," Studio V Associate Charmaine Allen said. "We've held a few so far and it's drummed up a lot of interest and business."
Bego and Ramos' trunk show will take place from noon to 3 p.m. Thursday, July 23. Studio V is located in Building J on the east side of Harper's main campus, 1200 W. Algonquin Road, Palatine.
Ramos, who recently graduated from Harper with an Associate of Applied Science degree in fashion design, makes free-form stuffed animals she playfully describes as "the toys nobody wanted" because of their endearing quirks. She said Studio V and her upcoming trunk show are helping her grow as an artist.
"My pieces really started out as just a fun thing," Ramos said. "I never imagined kids would respond to them the way they have. An event like this is helping me to put myself out there."
Upcoming shows include artist Shayde Fischer's jewelry design and beading from noon to 4 p.m. Thursday, July 28, and Susan Barzacchini's fine silver wire wrapped jewelry from noon to 4 p.m. Thursday, Aug. 13.
For more information about Studio V, call 847.925.6163 or visit harpercollege.edu/studiov. Regular hours are 10 a.m. to 6 p.m. Tuesday, Wednesday and Thursday.
Media contact: Kim Pohl, Media Relations Manager, 847.925.6159